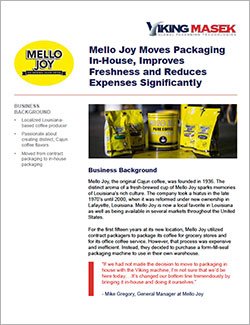 Case Study: Coffee Packaging Equipment
Mello Joy Coffee
After 15 years of using contract packagers, Mello Joy needed to lower production costs, reduce the amount of inventory stored, and improve their ability to react to market demand. Like any other first-time packaging machinery buyer, the company worried about understanding their options and making the right choice.
Plus, the local economy was facing an economic downturn. Mello Joy knew they needed to act fast to keep their business viable.
Fortunately, Viking Masek's extensive educational process helped Mello Joy find the perfect coffee packaging machine. Learn how the company uses their new VFFS equipment to package three different products, and how the addition of packaging automation not only saved jobs but allowed the company to add more!
FREE Mello Joy Coffee Case Study
---