Case Study
Revolutionizing the hops packaging process

---
The Challenge
Hollingbery & Son, a fourth-generation hops brokerage, was packing hops pellets by hand or using co-packers. The company wanted to increase production, improve accuracy, and take control of production with automated in-house packaging. In addition, Hollingbery needed a Vertical Form Fill Seal (VFFS) solution that could handle the large, 22-pound bags commonly used in the hops industry.
---
Our Approach
Hollingbery wanted to ensure its investment would pay off in the highest production rate possible. Unfortunately, the linear scale that has typically been used in the hops industry was only able to process 15 – 20 bags per minute, while the VFFS machine the company selected was capable of running 30 – 40 bags per minute. The traditional scale configuration simply couldn't keep up with the machine.
To improve production speed, we needed to integrate a scale that can weigh the product as fast as the machine can bag it. After collaboration with Yamato Americas, we sourced a 14-bucket combination scale that can run at a speed parallel to that of the machine.
Next, we addressed the impact of the large bag size on the gas backflush that occurs during the filling process. To fill the large bags, we developed new flushing tubes which are longer than normal. We also developed a custom deflation device that removes the residual air out of the bag just before the top seal is made.
The Viking Masek Solution
Hollingbery's VFFS S650 machine is now fitted with a Yamato 14-bucket combination scale which can accommodate up to 500 pounds. The packaging system also includes a feeder and mezzanine.
The sturdy setup is capable of withstanding the heavy loads of hops and filling 6 – 8 of the large 22-pound bags per minute with superior accuracy.
Hollingbery is so pleased with the increased efficiency and reduced waste created by the new VFFS system that it is now looking at automating other parts of the packaging operation.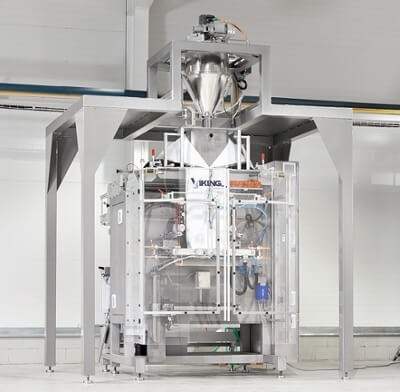 VFFS 650 - greatly improved production speed