5 Expert Tips for Proper Packaging Machine Maintenance

April 30, 2020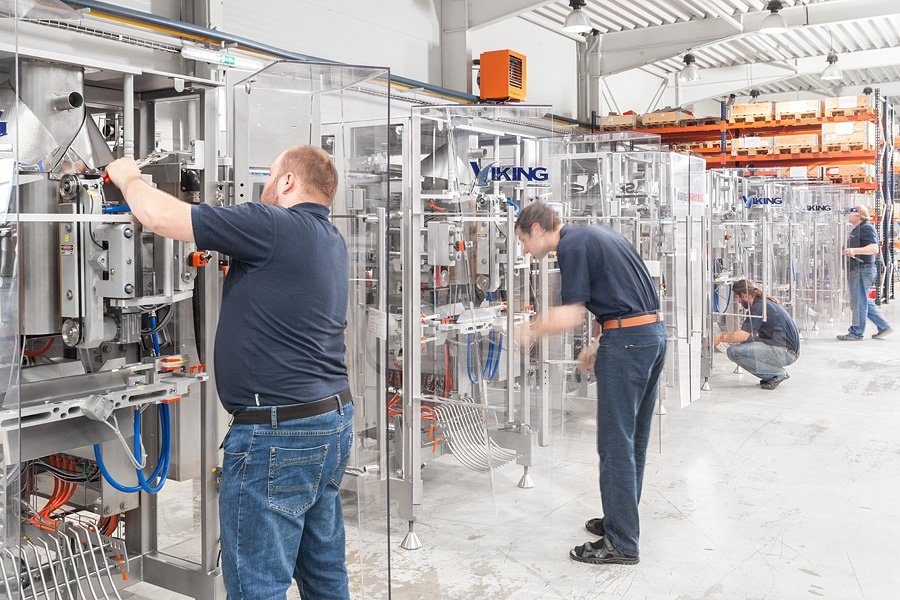 Maintenance of packaging equipment is critical to its longevity and performance.
A well-maintained machine will serve you and your operation for many years to come. To get you started on the road to maximum throughput, we're sharing some expert tips for proper packaging machine maintenance.
MAXIMIZE PERFORMANCE WITH OUR FREE PACKAGING MACHINE MAINTENANCE CHECKLISTS:
1. Adhere to a Preventive Maintenance Schedule
Automation Mag touts preventive maintenance as the number one recommendation for a long machine lifespan. For good reason: A packaging machine, like a car, needs to be periodically and regularly maintained to ensure optimal production and peak Overall Equipment Effectiveness. Formulating, and more importantly adhering to, a preventive maintenance schedule is of utmost importance after installation of a packaging machine.
A machine maintenance schedule is designed to prevent both minor problems and major disasters, thereby decreasing unscheduled downtime. Examples of preventive maintenance tasks include:
Machine inspection
Monitoring and changing wear parts regularly
Ensuring high wear parts are kept in stock
Lubricating the machine
These preventive maintenance activities often necessitate a higher level of technical training and expertise, and as such should only be performed by highly qualified and trained personnel or a certified service technician from the packaging machine manufacturer. Top packaging OEMs provide Service Audit and Preventive Maintenance Plans with regular scheduled onsite visits tailored to your individual business needs.
2. Combine With Autonomous Maintenance Tasks
Automation Mag also recommends pairing more in-depth assignments associated with packaging machine maintenance with easier, task-based activities that are carried out at regular intervals by trained machine operators.
Operating off of a packaging machine maintenance checklist, operators are tasked with activities they must perform on daily, weekly, monthly, quarterly, and biannual intervals. These tasks often contain simple visual cues, and because the operators become familiar with the machine with repeated maintenance tasks, they can often detect when something is 'off' before a scheduled OEM technician visit would.
3. Partner With Responsive Packaging OEMs
When your packaging machine is down, every second counts. Ideally, before purchasing a piece of equipment, you have properly vetted the OEM to learn the details of their technical service availability, methods of contact, and related costs.
Partner with a packaging machine manufacturer where an actual person will answer your call or email, and one that has remote capabilities to access and troubleshoot most routine problems without unnecessary and costly onsite visits.
The COVID-19 pandemic of 2020 dramatically highlighted the need for remote service capabilities, as many companies suspended business travel for months. Virtual meetings and video conference calls quickly emerged as the saving grace, enabling OEMs and their clients to conduct packaging machine troubleshooting remotely, no matter what was happening in the world.
4. Understand Your Spare Parts List
After purchasing a packaging machine, your OEM should provide you with a recommended spare parts list. This list should be broken down into part class by wear so you can plan your parts inventory strategically. For instance, at Viking, our parts are classified as follows:
A - High wear parts. These parts have a shorter lifecycle or are not standard items and have a long lead time.
B - Medium wear parts. These parts have a longer lifecycle and may or may not ever fail.
C - Low wear parts. These parts should never fail.
It is always recommended to keep high wear parts in stock. The last thing you want to do when your machine is down is wait for a part to be fabricated or shipped. Every minute your machine is inoperable during production hours is money down the drain.
5. Plan for Upgrades and Obsolescence
Inevitably, packaging equipment and software require upgrades and sometimes replacement when a certain machine or component is made obsolete and no longer supported. Technology develops fast these days, and packaging equipment is no exception.
Maintain close communication with your packaging equipment manufacturer to learn of necessary or recommended equipment upgrades and to ensure notification if your particular piece of equipment is being phased out. If so, formulate a proactive plan for upgrade or replacement of your machinery, components, or software that will minimize downtime.
Free Packaging Machine Maintenance Checklists
When it comes to the performance of your packaging machine, be proactive, not reactive. Download our free packaging equipment maintenance checklists today to ensure maximum productivity for the life of your packaging equipment:
Originally published 5/9/2017, updated 4/16/18, updated 4/30/2020
---