Beyond the Boardroom: Executives Journey to the Top of Mount Kilimanjaro

April 11, 2023
In February 2023, Chief Operating Officer of Viking Masek US, Ty Weinhold, and President and Co-Owner of Viking Masek CZ, Jan Masek, reached new heights together when they ascended a 19,341′ climb on Tanzania's Mount Kilimanjaro.
Ty and Jan have taken on many excursions together, but conquering Mount Kilimanjaro was an extreme challenge of theirs. The goal for these executives was to bring two collective parts of the world together to challenge their endurance, willpower, determination, execution, and how well they could follow through together, as a team. Like any great challenge, the rate of success you can achieve is ultimately determined by how prepared one is for various situations. Being not only physically, but mentally fit, to take on such an achievement was of utmost importance to Ty and Jan. Of course, after months of preparation, these executives knew that not everything can be in their control, but they were ready to stick with their climb as they faced adversity along the way. Much like their philosophies in the office, both knew that if they were not prepared for anything, they would not be able to accomplish their goals.

Many people train for months, or years mentally for this great climb, but all the training in the world cannot account for the possibility of inclement weather or human body disruption such as lack of oxygen, body conditions, and pure exhaustion. During the hike, both Ty and Jan experienced moments of hardship that were out of their control. Instead of letting it hold them back, they adapted to their conditions, overcame, and saw it through as best they could. Both Ty and Jan quickly learned that altitude sickness was no joke. Halfway through the climb, Ty started to feel the effects of the altitude on his body. These effects were strong enough to make anyone question why they are doing this in the first place. Instead of giving up, with the support of their guides, Ty took the necessary measures to rest, recover and get back to the climb.
While the interruption of altitude sickness put the hike on a temporary pause, there was a silver lining. Most hikers reach the summit very early in the morning, Ty and Jan were about 6 hours behind schedule, therefore they reached the summit mid-day and by themselves. At the time, Ty and Jan were at the highest peak in Africa by themselves while it was sunny and warm. In this moment, both knew that things happen for a reason, and they were blessed with the situation they had encountered.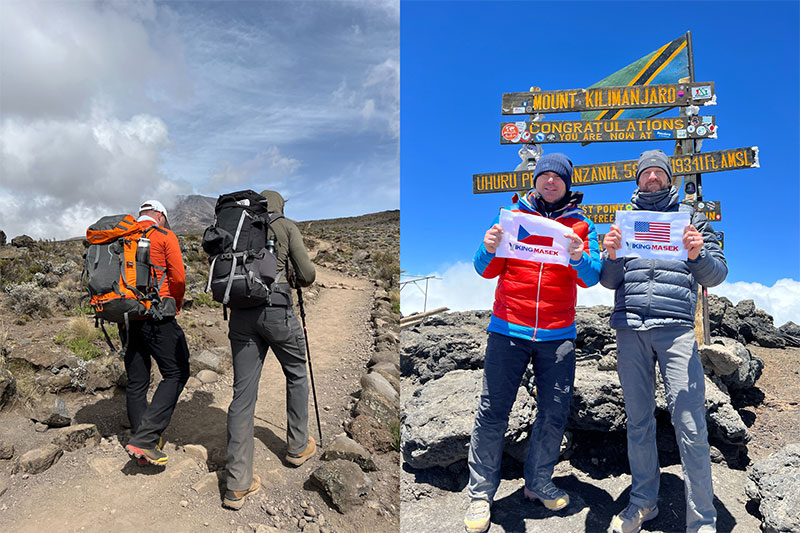 Overall, their climb took about 5 days – 3.5 days to ascend, and 1.5 to make it down. Climbing Mount Kilimanjaro was a once in a lifetime achievement for both Ty and Jan. Conquering such an achievement immediately gave them the motivation and confidence to set new goals and milestones. In turn, this ultimately provoked the question of: What's next?
Learn more about what takes Viking Masek to new heights and the history about us.
---