Coffee Company Perseveres During Economic Downturn by Bringing Packaging In-House

January 26, 2017
We love to learn about our clients' businesses and their challenges, educate them to make game-changing decisions about their production and packaging, and celebrate their successes after implementing packaging automation into their operations.
In mid-2015, a Lousiana-based coffee producer contacted us as the company started evaluating options for bringing their coffee packaging in-house. We recently captured their amazing journey to success via packaging automation in an in-depth case study.
The Story
Located in Southern Louisiana, Mello Joy got its start in 1936 and its coffee quickly became the 'talk of the town'. Their products became a must-have for Cajuns and Mello Joy soon became the #1 coffee in Louisiana. In 1976, the owners of Mello Joy sold the business, and within a few years their products, unfortunately, got phased out of the market. After many years of consumers asking "What happened to Mello Joy?", the company was resurrected with new ownership in 2000. Today The Original Cajun Coffee is available nationwide on grocery store shelves, in restaurants and coffee shops, and in corporate businesses.
For many years, Mello Joy outsourced the packaging of their coffee to contract packagers. A fine solution, co-packing fulfilled their needs for quite some time. However as related costs began to add up and the economy in Louisiana began to take a dive, company ownership realized that in order to remain solvent, they needed to bring their coffee packaging in-house.
Why They Chose Viking Coffee Packaging Machinery
This was Mello Joy's first foray into packaging equipment and processes, so they needed a packaging machine manufacturer that could provide them with an expert to guide them through the process. A previous contract packager pointed them to Viking as a reliable packaging equipment manufacturer.
Viking Masek Director of Sales, Bryan Lacy, spent time working one-on-one with Mello Joy, explaining the coffee packaging process in detail. No stone was left unturned so that when it came time to make a decision, Mello Joy was empowered to choose the right packaging solution for their specific needs.
Their purchase of a Viking packaging machine quite literally turned their business around. Mello Joy's General Manager attests:
"If we had not made the decision to move to packaging in-house with the Viking machine, I'm not sure that we'd be here today….It's changed our bottom line tremendously by bringing it in-house and doing it ourselves."
Click below to read Mello Joy's full story: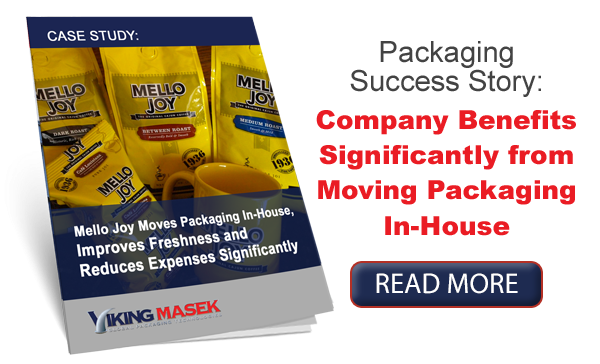 ---