Follow these 6 tips when shopping for packaging equipment at trade shows

August 15, 2023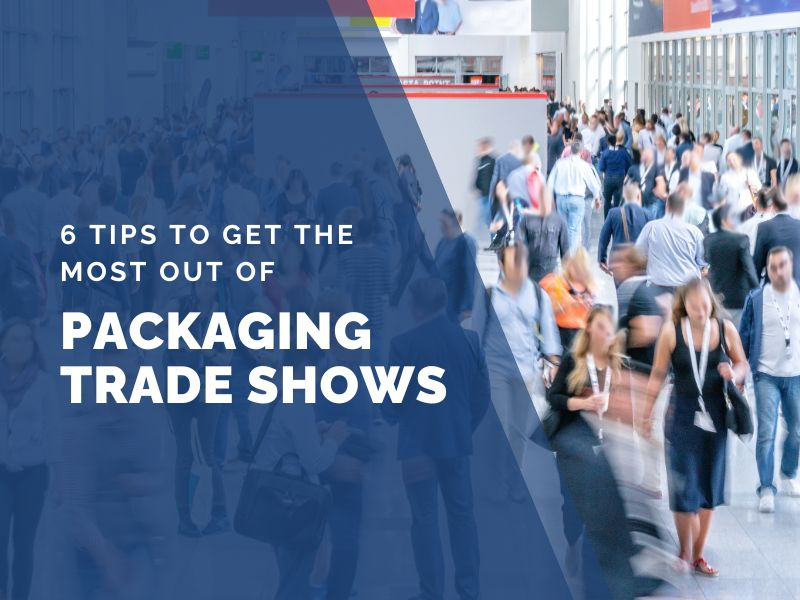 Ah, trade shows.
They can be fun. They can be stressful. But most of all, they are a convenient way to connect vendors and buyers under one roof in a short period of time.
Trade shows are a great way to shop for packaging equipment - you can compare many different manufacturers, see the machinery up close and in action, and ask questions of expert booth staff.
However, if you don't maximize your visit, you may leave with more questions than answers. Here are some insider tips to follow when shopping for packaging equipment at trade shows:
See when Viking Masek will be exhibiting at a trade show near you >>
1. Score free admission
What's better than free, right?
Many trade shows give exhibitors a limited amount of free show passes to offer to their customers. If there is a particular show you are planning to attend, visit the packaging machine manufacturer's trade show page or contact your representative to see if they have any free passes to offer. With admission to some trade shows costing $1,000 or more, this is an awesome savings, especially if you plan on bringing additional staff.
But fair warning: Get your complimentary pass early! Exhibitors are only allocated so many and they often run out. Plus, these offers usually expire as the show gets closer and are not valid onsite after the show has already begun.
Attend Pack Expo 2023 For Free
2. Remember trade shows are not real life
Trade shows are kind of like a first date – the exhibitors will be polished and pretty and say all the right things to secure a second date.
Everything from the packing machinery chosen to booth staff to even carpeting is meticulously planned to make the company stand out among the competition. This is normal and to be expected. After all, trade shows can be crazy expensive – companies must put their best foot forward to maximize their ROI.
All that said – remember that what you see at trade shows does not necessarily represent how the packaging equipment will perform in real-world scenarios. Not saying the machinery will fail after installation - quite the opposite if you go with the right vendor. But remember what you see at trade shows has been practiced and polished to show the very best of what the packaging equipment manufacturer has to offer.
Now don't get us wrong, we love trade shows! They are a great place for us to show our equipment to a ton of people within a short period of time. As an attendee, you can see and compare many different manufacturers at one convenient location. Just remember to take a step back from the glitz and glam afterward and adjust your expectations.
3. Provide more detail to get priority follow-up
Sales representatives have hundreds, if not thousands, of leads to follow up with after a trade show. They must segment and prioritize them somehow. Often they will use a CRM (customer relationship management) system with automated lead scoring to qualify and rate leads in order of importance and urgency.
So how do you position yourself at the top of the list? As someone who manages our customer database, I can personally attest that the more information you provide, the higher your 'score' will be for priority follow-up.
Have unique specifications or a hot project? When you provide specific project details, sales specialists can better prepare for a follow-up chat and maximize everyone's time by cutting right to the chase. Looking for more than just ballpark pricing? The more details the representative has at the outset, the faster they can get a packaging machine quotation in your hands.
Want to ensure you get a call quickly after the expo? Show up with all your specifications written down, or better yet, email your project details to the packing machine manufacturer beforehand. Use our free packaging equipment project planner as a template:
4. Make an appointment for VIP treatment
Trade shows can get insanely busy. As such, booth staff has a limited amount of time and resources to dedicate to each visitor.
So how do you get red carpet, VIP treatment among the chaos? It's simple: Schedule an appointment beforehand. Even in a busy booth, appointments will always take priority because if we know you're coming, we can allocate resources accordingly.
This especially applies if you have an urgent or complex project - reach out to the packaging equipment manufacturer prior to the show to make an appointment with a specialist. Sales representatives love this because it helps them plan their day more effectively, and you will love it because you will be able to stroll into a busy booth and get immediate, personalized attention like a celebrity.
5. Stop by early for on-demand attention
Don't want to make an appointment? No problem, we would still love to chat with you. But you will be competing with everyone else for attention.
If you want booth staff to be tripping over themselves to help you, visit during off hours. The majority of show attendees will show up mid-day (after they sleep off the party from the night before). Often booths will be quite empty earlier in the morning. If you want one-on-one attention, visit the booth earlier in the day.
The last day of a trade show, especially in the afternoon, is also usually a slow time as far as booth traffic because attendees are traveling back home. If you are local or just staying an extra day or two after the expo, this is a great time to visit booths to get one-on-one attention.
6. Go digital for follow up
Many packing machine manufacturers are moving away from printed materials at shows. After all, when is the last time you actually used a flyer from a trade show for more than scrap paper? Instead of requesting a paper brochure for more information, ask booth staff to email you the information. Often they can do this on the spot or at the end of the day.
See Viking Masek packing machines at trade shows near you
Want to see our packaging systems up close and in action at a trade show in a city near you? Check out our trade show calendar and make plans to visit us this year:
---