Breaking down the parts of a packing machine quotation

February 14, 2019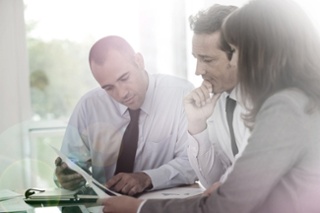 Getting serious about investing in packaging automation?
Once you have all your specifications together, you can start reaching out to packaging machine manufacturers for proposals.
Every manufacturer does things a little differently, but in general, packing machine quotations follow a standard format. Most proposals for packaging machinery are very detailed and specific to the client, so they tend to be pretty long. We go over each section below in detail:
Think you're ready to request a packing machine quotation? First, download our free project planner to nail down every last detail. >>
The information below is for demonstration and planning purposes only. Proposals from different manufacturers will vary.
1. Cover page
The easy part. Most packaging machine manufacturers will have some sort of cover page featuring their branding, contact information of your representative, as well as the contact information of the client.
2. Project specifications
This section confirms all the specifications you gave to the manufacturer and outlines other project-related information and details. It can include things like:
Product details
Bag details
Packaging machine speeds requested
Packaging material type
Terms of delivery and requested delivery date
Any critical project notes or custom requests
3. Equipment specifications
This section will detail the specifications of the packaging machine you are being quoted, as well as specs for any ancillary or third-party vendor equipment you requested.
This section can get really technical and in-the-weeds. But this information is valuable for packaging line engineers to determine if the equipment meets the specifications they desire.
4. Packing machine price
Pricing…the section clients often flip to first!
Each piece of equipment on the packing machine quotation will be priced out for you. Often this section will also contain which components make up the packaging machine to arrive at that pricing. Optional add-ons, service rates, and other miscellaneous pricing could show up here as well.
5. Photos and other media
If you are new to packaging automation, trying to visualize the equipment from a written description can be almost impossible. Pictures and videos help you to visualize the packaging machine components and how they work together. This section may contain photos, brochures, and web links to videos, presentations, and other media.
6. Commissioning and interfacing information
Installing a packaging machine is not as easy as plugging it in and pressing the 'start' button. You will likely need a trained technician provided by the manufacturer to set it up for you.
This section spells out what the packaging machine manufacturer's policies are for providing a technician to install and test the machinery at your business. It will tell you things like:
Service rates (usually hourly)
If integration of existing equipment is included
How much training will be provided
Your responsibilities prior to the technician arriving
If you are responsible for the technician's travel, lodging, meals, etc
7. Payment terms
As we discussed in another recent post, there are standard terms of payment that are included in every quotation.
A payment schedule will be included in this section. Usually, you will not be expected to pay for the entire packaging system upfront in a lump sum. Often the purchase price is split into multiple payments over the life of the project.
Payment terms will also tell you what is NOT included in the quoted pricing, which may include things like shipping, taxes, tariffs, and inspection fees.
This section is very important to read in full so you know when exactly you will be expected to pay for the packing machine. You will also be able to budget for the items not covered by quoted pricing.
8. Terms and conditions
This is the part of the quotation the legal people love. Often you will find pages and pages of fine print that tell you things like:
Packing machine performance guarantees
Warranty period and terms
What happens if you need to change your order
Any fees assessed on late payments
Payment of taxes
Who has security interest in the equipment at certain points of the project
Jurisdiction of any legal claims that should arise in the future
This section is extremely important to read and understand as it becomes legally binding once you place the order for the packaging machine. If there are parts of it that you do not understand or agree with, you should review it with your lawyer.
9. Signature of acceptance
Many packaging machine manufacturers will turn the quotation into an official binding contract when the order is placed. If that is the case, there will be a section provided for your signature to accept the terms, specifications, and pricing provided in the quotation. If anything needs to be revised, request an updated quotation prior to signing so the changes are there in writing.
10. Expiration date
Quoted pricing is normally only valid for a period of time, usually ranging from 30 - 90 days. After that expiration date, a new packaging machine quotation must be prepared.
Ready to request a packing machine quotation?
First, make sure you have all the pertinent details nailed down. Use our free downloadable Packaging Equipment Project Planner to organize it all.
Already have all your details figured out? Request a packing machine consultation today to get started on the quoting process.
---