NEW

Case Study
Developing the fastest VFFS system in the world
---

The Challenge
A coffee contract packager approached Viking Masek searching for a fast and flexible way to package fractional packs of coffee. The co-packer was struggling with speed and quality due to a plant equipped with a variety of machines, some quite old, which were slow and did not seal well. The company wanted a solution that was able to produce fractional packs at high speeds with very tight tolerances.
---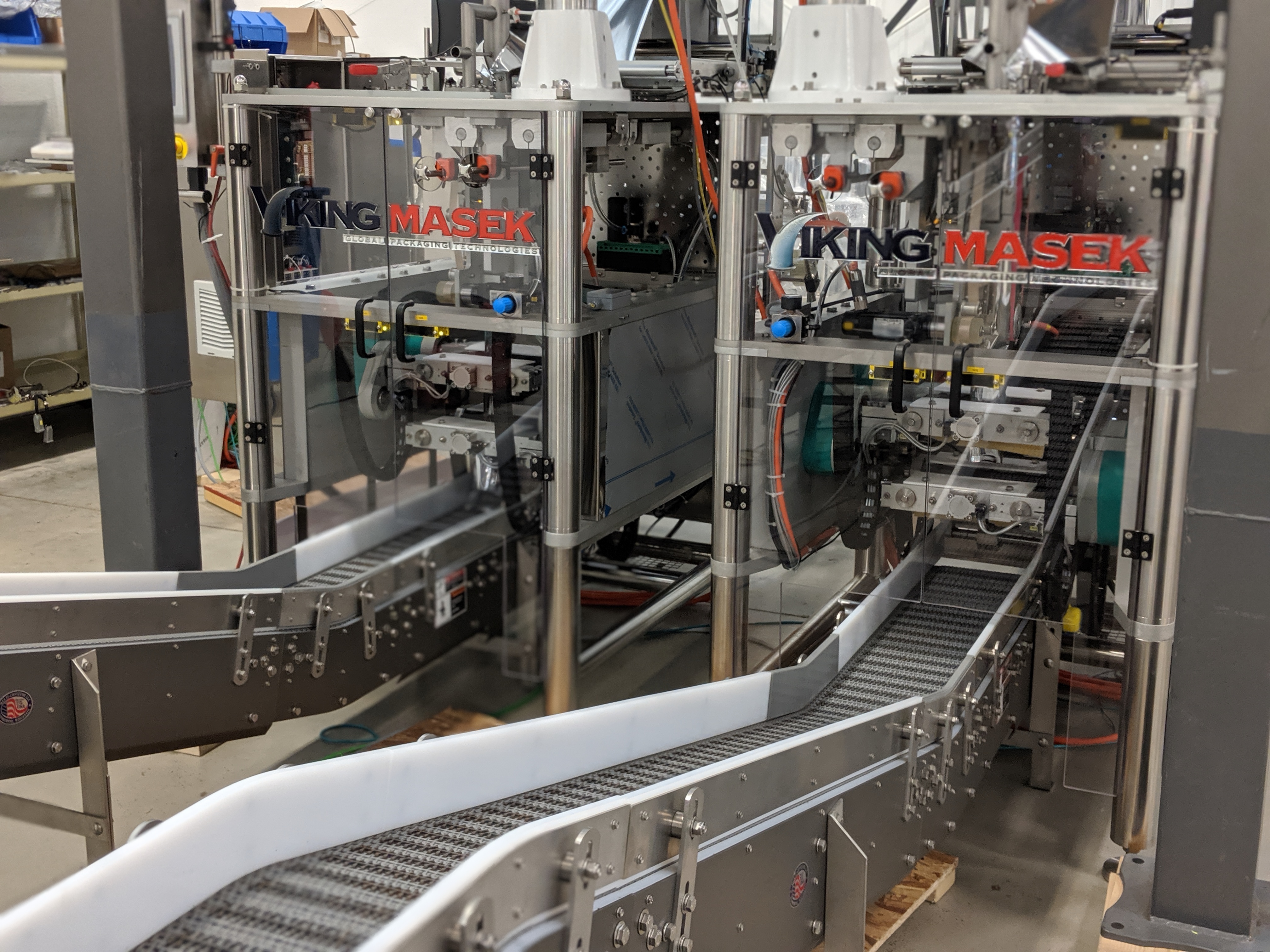 VFFS Velocity - This twin Velocity system is the fastest VFFS machine in the world.

Our Approach
Our initial approach to the co-packer's challenge was to provide our high-speed VFFS Velocity machine featuring an improved Teflon back seal design, which has since been patented.
This system also included our patented continuous motion rotary heat seal jaws, which allows the machine to reach super-fast production speeds, virtually eliminating lost cycle time.
This single Velocity system was so effective, the co-packer approached Viking Masek to see if we could develop a dual system that would double production speeds in a very small footprint.

---
The Viking Masek Solution
Our market-disrupting dual VFFS Velocity solution combines two high-speed VFFS Velocity packaging machines into one small footprint, conserving floor space.
This twin Velocity system is the fastest VFFS machine in the world, reaching true production speeds of up to 310 bags per minute (155 bpm per side). The machine features several innovative technological improvements not found in other VFFS machines including:
Twin patented continuous-motion heat seal jaws virtually eliminating lost cycle time.

Dual patented Teflon vertical back seal design ensuring constant, even contact with the film. In addition, the sealing assembly is designed to conform to the smaller forming tubes used for fractional packs of coffee.

Precision web tracking and anti-static discharge.

Fully servo, Allen Bradley machine controls providing superior control over bag length, sealing and web handling.

High-speed checkweighers that continually check weights and feed information back to the auger filler, keeping package weights within tight tolerances. (0 – 2% of desired weight)

High-speed auger fillers that ensure dusty product can be filled cleanly at high speeds without particulates impeding the sealing system.
The Final Result
A machine that pushes the envelope on speed and accuracy. This contract packager was able to double output with half the labor expense.
Plus the real-time checkweighing system eliminated the need for manual inspection, and high-speed counting heads on the casepackers automated the cartoning process by filling the cartons with the correct number of packages and closing the boxes automatically.

Learn more about this transformational VFFS machine and see it in action to understand how it can help you meet speed, accuracy, and performance goals. Who says you can't have it all?