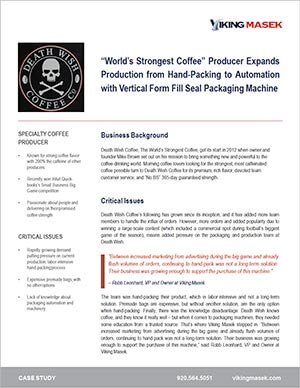 Case Study: Coffee Packaging Equipment
Death Wish Coffee
When Death Wish Coffee won a small business competition and received worldwide exposure in a once in a lifetime commercial spot during football's biggest game, the company knew their days of hand packaging were over.
This fast-growing company needed a reliable coffee packaging machine capable of producing a highly-branded package at high speeds and in three sizes.
Learn about the vertical form fill seal (VFFS) packaging machine Death Wish Coffee selected and how its flexibility continued to support the company's growth with its flexibility to produce multiple package types.
Check out Death Wish Coffee's commercial that debuted during football's biggest game!
FREE Death Wish Coffee Case Study
---