Updates from Viking Masek about the coronavirus

March 24, 2020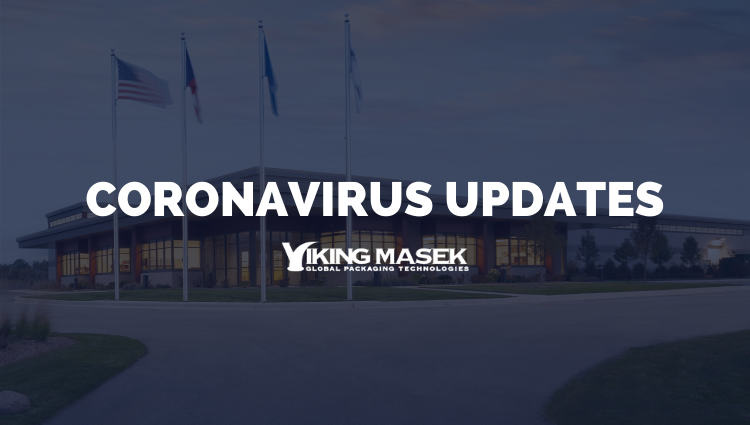 March 24, 2020
Wisconsin's "safer-at-home" order
Wisconsin's Governor Tony Evers has declared a "safer-at-home" order, going into effect at 8 am Wednesday, March 25, 2020. This order mandates, among other things, that non-essential businesses must close statewide through Friday, April 24, 2020 or until a superseding order is issued.
As a business that operates our US headquarters in Oostburg, Wisconsin, we want to keep you updated on how this order affects our operations.
Because of the services and products we provide to essential businesses like food, pharmaceutical, and medical device manufacturers nationwide, Viking Masek's US headquarters is currently deemed a "Supplier for Essential Business and Operations" and therefore will remain open. All departments at our US headquarters are currently functional and operating normally.
Our facility continues to share CDC guidelines and updates with our workforce, including practicing social distancing, use of hand sanitizer and proper hand-washing protocols, and extra cleaning and disinfection of high-traffic areas.
We are also taking the following additional precautions:
An interim policy that limits visitors to only pre-authorized essential business
Screening of approved visitors each time they enter our facility, including temperature checks
Temporarily eliminating all nonessential travel for employees
Our executive team continues to monitor the COVID-19 situation and remains agile to respond to changing needs and directives.
We remain committed to serving your business needs during this difficult time.
Best,
Ty Weinhold
COO
Viking Masek – US headquarters
Oostburg, WI
Get in touch:
---
March 23, 2020
Notice to visitors to our US headquarters
The health and safety of our customers, employees, and visitors is of utmost importance to us.
To help limit the spread of COVID-19 and reduce the risk of potential exposure to our employees and visitors, we are limiting physical access to our US headquarters, effective immediately, until further notice.
Prior to making arrangements to visit our facility, after arrival, and at each subsequent visit, you will be asked to certify that ALL of the following statements are true:
You have not traveled, and do not live with, anyone who has traveled on a cruise ship or to a CDC designated level 2 or 3 country within the last 14 calendar days
You have not been exposed to, or live with, someone who has been exposed to COVID-19
You have not been diagnosed with, or live with, someone who has been diagnosed with COVID-19
You are not currently experiencing the following symptoms: Fever, cough, breathing difficulty
Your visit is business-critical, cannot be postponed, and the goal of your visit cannot be achieved remotely
You will also be subject to a temperature check each time you visit our facility.
Please get in touch with your Viking Masek host prior to making travel arrangements to discuss whether your visit is considered essential. If your visit is deemed non-essential, arrangement ts will be made to conduct business using remote technologies like Skype, Microsoft Teams, etc.
Your business is important to us and we thank you for your loyalty. We will make every effort to ensure we meet your needs while also ensuring the health and safety of our workforce and their families.
Best,
Ty Weinhold
COO, Viking Masek US headquarters
Oostburg, WI
Get in touch:
---
March 16, 2020
Updates on coronavirus (COVID-19)
The spread of the coronavirus (COVID-19) is on all of our minds and in the news, and our executive team has been monitoring the situation closely. As a company that conducts business internationally, we felt we should let you know how we are responding to the outbreak.
Ensuring the health and safety of our customers, employees, and vendors is of utmost importance to us, as is continuing to serve the needs of our clients with minimal disruption.
We continue to share guidance from the CDC with our employees to reduce risk and keep our workforce healthy, including proper hand-washing practices, availability of hand sanitizer throughout our facility, and frequent cleaning of high-traffic areas and work surfaces.
We have also taken the following additional precautions:
Temporarily suspending international travel for employees
Limiting all employee travel to only imminent situations
Vetting shipments to/from our US facility
Limiting and screening visitors to our US facility
Canceling/postponing exhibitions at industry events
Implementing a flexible work policy that includes remote solutions
Contingency planning to minimize disruptions to your business and ours
As the situation remains fluid and changes day by day, we remain agile and flexible to do what's best for our customers and our team. We will continue to monitor the outbreak and provide updates to you on this page.
If you have any questions or concerns, we encourage you to reach out to us by calling 920.564.5051, contacting your Viking representative, or contacting us online here.
We thank you for your support and loyalty and we will continue to keep you updated on this dynamic situation.
Best,
Ty Weinhold
COO, Viking Masek US headquarters
Oostburg, WI
Get in touch:
---