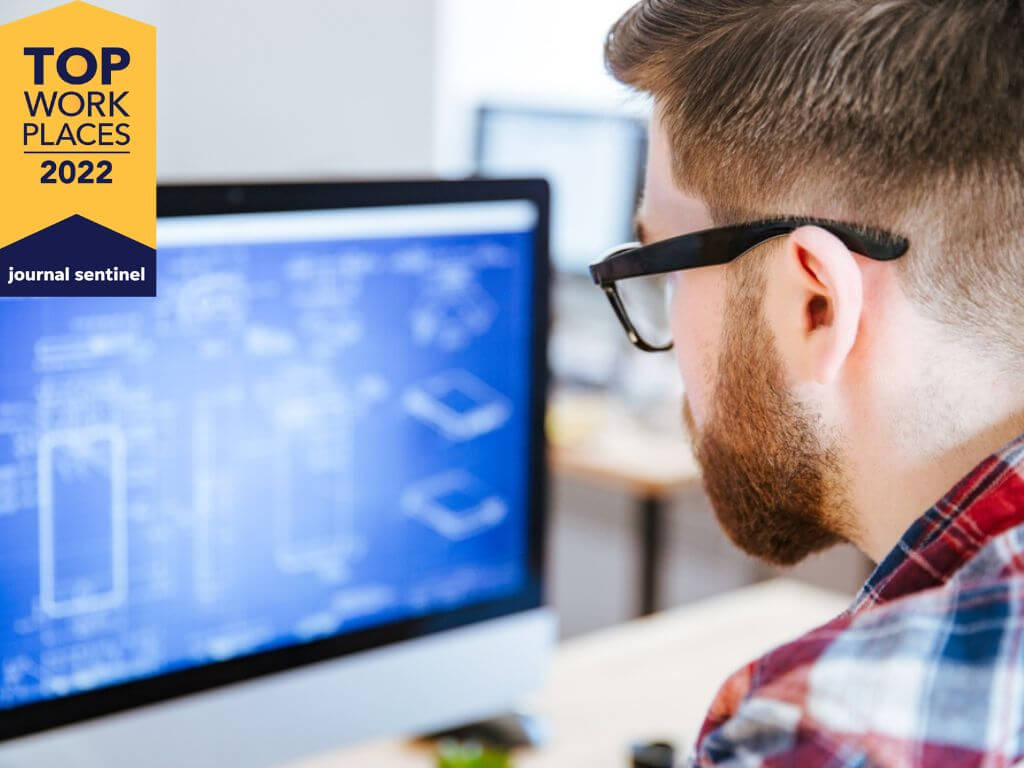 If you love designing creative equipment solutions to address client challenges, consider a Mechanical Designer position with Viking Masek! Strong problem-solving and interpersonal relations skills coupled with a technical background in Mechanical Design would make you the perfect candidate for this position.
We have a fun and relaxed workplace culture, solid benefits package, and significant opportunity for growth for the right person.
Join the team at Sheboygan County's Manufacturer of the Year today!

Application for United States only. Job openings in other locations, please click here.
---
Description
The Mechanical Designer provides high-level packaging equipment component and systems design services to facilitate the manufacture, assembly and commissioning of packaging equipment.
Location
Oostburg, WI - USA
Hours
Mon - Fri
7:00 AM - 4:00 PM (can be flexible)
Travel
As required.
Reports to
Director of Engineering
for the Mechanical Designer opening
Job Requirements
Education generally equivalent to a (2) year degree in a Mechanical Design program, or related discipline or equivalent experience and specialized training
0 to 3 years of mechanical design and documentation experience
Strong oral and written communication skills to effectively communicate design
Ability to use various precision measuring instruments
Ability to use Microsoft Office software, AutoCAD, SolidWorks, PDM, and Viking Masek systems
Strong attention to detail and high level of accuracy and accountability
Ability to prioritize competing tasks in a fast-paced environment
Expectations
Commitment, Accuracy, Accountability, Communication, Closure
Positive and Supportive Attitude
Understand the Company and department processes
Be Innovative
Driven and Passionate
Prepare to Win
Promote Teamwork
Continuous improvement and training upkeep.
Follow all company's filed procedures and protocols.
Job Duties & Responsibilities
Performs and/or coordinates packaging equipment mechanical component and mechanical systems design services.
Analyzes problems and provides creative & accurate design solutions.
Accurately and consistently applies engineering and manufacturing standards.
Creates and maintains mechanical component and systems documentation, such as BOMs, spares, flow charts, part drawings, assembly drawings, and schematics.
Provides support services relating to packaging equipment fabrication, assembly, checkout, and start-up.
Review OEM equipment and commercial item specification.
Manages and sustains design catologs.
Performs sizing and optimization analysis for making design recommendations.
Defines and carries out testing to determine relevance of a given design to a customer's need or product design.
Manages or sustains design catalogs.
Performs strength, sizing calculations, or other analytical techniques as needed in the design or modification of packaging equipment.
Communicates mechanical design intent to other departments/functions, ensuring that their requirements are fulfilled in the mechanical design.
Communicates with other departments/functions to resolve conflicts, deal with issues, and incorporate suggestions/decisions into mechanical designs.
Obtains quotations from vendors and parts set-up in ERP system.
Produces timely and detailed reports.
Understands packaging machines and processes.
Other Misc. Duties
Always sell the Viking Value Proposition.
Attend Tradeshows when necessary from a Technical resource.
Occasionally works in proximity to moving mechanical parts.
The noise level in the work environment is usually moderate.
While performing the duties of this job, the employee is occasionally required to sit, stand, walk, climb, balance, stoop, kneel, crouch or crawl, and/or reach above shoulders.
May occasionally travel on company business.
Adhere to company and departmental SOP's.
Willing to work with a team to troubleshoot problems.
Team player that is a highly disciplined, problem-solver with a strong work ethic.
Commitment, Accuracy, Accountability, Communication, Closure.