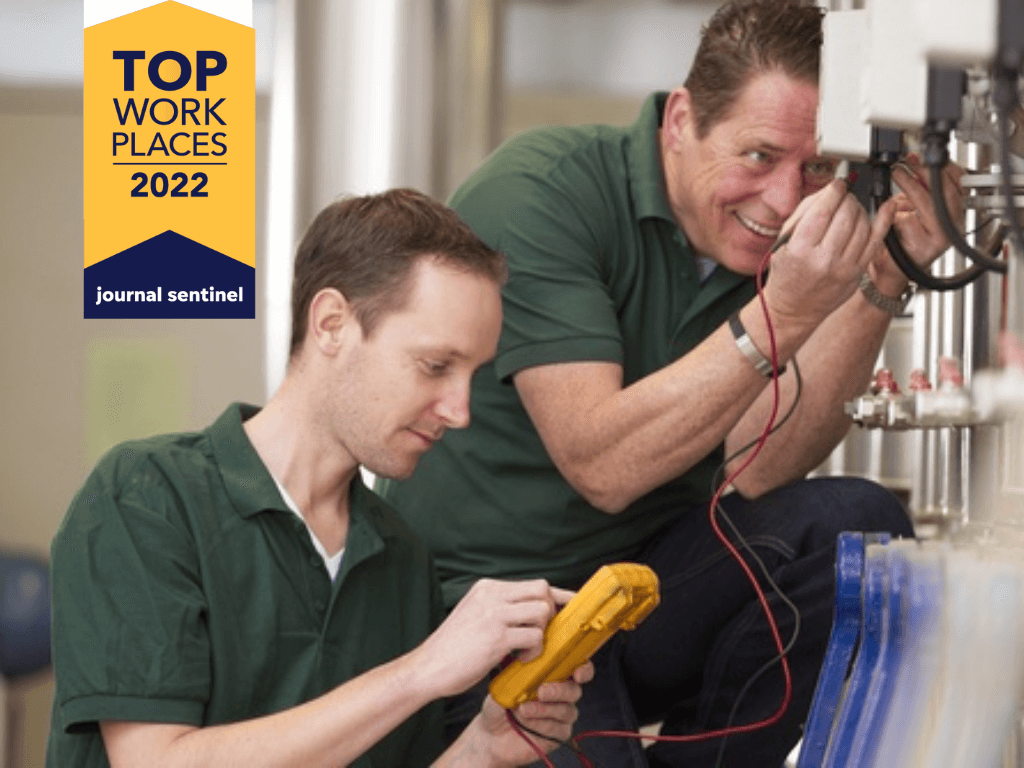 If you are a person who enjoys problem-solving, working with your hands, and collaborating with cross-functional teams to achieve customer goals, a Process Technician career may be for you. Strong organizational and prioritizing skills coupled with technical and mechanical aptitude would make you the perfect candidate for this position.
We have a fun and relaxed workplace culture, an attractive benefits package, competitive wages, and significant opportunity for growth for the right person.
Join the team at a Milwaukee Journal Sentinel Top Workplace and Sheboygan County's Manufacturer of the Year today!
Application for United States only. Job openings in other locations, please click here.
---
Description
The role of a Process Technician is assembly, mechanical machine set up, light wiring, check out, training, FATs, and customer demos. Requires compliance to company ERP system to assist with production and project work reporting, managing job tasks, and helping the organization keep the customer database in pristine condition. This role is responsible for understanding company and customer technical needs to achieve company and customer end goals. Responsibilities for this position also include establishing and maintaining industry and company technical knowledge and working with Project Managers and cross-functional teams to solve an organization's technical challenges. Will be an expert in industry, packaging machines, and technical skillsets.
Location
Oostburg, WI - USA
Hours
Mon - Fri
7:00AM - 3:30PM
(can be flexible)
Travel
Travel may be required 5-10% annually.
Reports to
Service Manager
for the Process Technician opening
Job Requirements
Valid Driver's License required
High School Diploma or equivalent required, Technical Diploma preferred, Bachelor's Degree a plus
2+ years of relevant experience
General computer skills (Outlook, Word, Excel)
Familiarity with ERP systems
Ability to read electrical schematics
Ability to troubleshoot electrical wiring
Mechanical proficiencies
Strong organizational and teamwork skills
Job Duties & Responsibilities
Complies with machine production schedule
Complies with machine scope of work
Accepts daily responsibilities on shop floor
Communicates with the Production and Service teams
Works with internal departments as needed
Maintains technical and operational documentation
Studies and standardizes procedures to improve efficiency of Technical Services team
Provides service and customer support during field visits or dispatches
Follows all company's filed procedures and protocols
Cooperates with technical team and shares information across the organization
Builds positive relationships with customers
Comprehends Production Manager direction and makes appropriate recommendations
Works with a team to troubleshoot problems
Responsible for Factory Acceptance Tests and equipment Demos for sales