Customize Your Premade Pouch Machine to Suit Your Industry
Large premade pouches of powders and food products measuring up to 220 mm wide are filled and sealed by this packaging machine. Now able to fill and seal STANDCAP pouches!
---
Features
8 stations, dual bags
PLC control with touch screen operation
Servo-driven Allen Bradley control platform
Highly durable welded steel frame
Production parameter memory including gripper size, machine speed, sealing temperature, and filling volume
Pouch presence detection – no filling, no sealing
Bag deflation with wire guide or push bars
Automatic deoxidizer feeding station
Two step sealing process guarantees clean sealing
Cooling station for liquid products
Videos

STANDCAP Pouch Bag Style
Machines now configurable to fill and seal premade STANDCAP pouches!

How to Package Cannabis Edibles
Fill and seal premade pouches with cannabis edibles accurately and quickly with a duplex machine.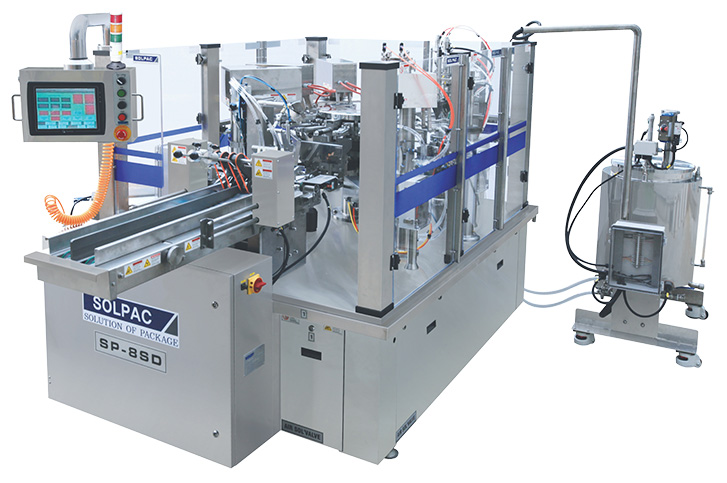 Options
NEW STANDCAP pouch configuration
Proprietary Viking robotic pick & place bag infeed system
Product filling – can be integrated with multi-head scales, volumetric fillers and auger fillers
Fully interlocked safety guards
Presealing station for liquid or paste
Zipper opening device
Clean-in-place design
Long raised rotary shaft extender for longer bags
Extended bag magazine
Date coding: emboss, hot stamp, inkjet or thermal transfer
Quality control: checkweigher, metal detector, X-ray inspection
Dust suction nozzles and dust collector
Product settler
Bag supporter for heavy fills
Ethernet connectivity
Washdown structure (IP65 or IP66)
Steam or gas flush
Rotary running clockwise model
Bag rejection system
Collating discharge conveyor
Technical Specs
| Duplex Model | 8SD-110 | 8SD-135 | 8SD-165 | 8SD-220 | 7SU-240 | 8SU-180 |
| --- | --- | --- | --- | --- | --- | --- |
| Number of Stations | 8 | 8 | 8 | 8 | 7 | 8 |
| Number of Lanes | 2 | 2 | 2 | 2 | 2 | 2 |
| Maximum Speed Per Minute (dry cycle) | 100 | 100 | 100 | 100 | 80 | 80 |
| Bag Gripping Range (mm) | 85-110mm | 90-135mm | 90-165mm | 140-220mm | 100-240mm | 100-180mm |
| Maximum Bag Length (mm) | 350mm | 350mm | 350mm | 350mm | 350mm | 350mm |
| Electrical Requirements | 3-Phase, 480V, Approx. 8.5 Kw, 60Hz | 3-Phase, 480V, Approx. 8.5 Kw, 60Hz | 3-Phase, 480V, Approx. 4 Kw, 60Hz | 3-Phase, 480V, Approx. 5.5 Kw, 60Hz | 3-Phase, 480V, Approx. 10 Kw, 60Hz | 3-Phase, 480V, Approx. 4.5 Kw, 60Hz |
| Compressed Air | Approx. 900NL/min, 5~6kgf/cm2 | Approx. 900NL/min, 5~6kgf/cm2 | Approx. 600NL/min, 5~6kgf/cm2 | Approx. 600NL/min, 5~6kgf/cm2 | Approx. 1,00NL/min, 8kgf/cm2 | Approx. 700NL/min, 5~6kgf/cm2 |
Industries
---
Bag Styles