4 Flexible Packaging Trends to Watch for at Pack Expo

September 11, 2017
The premier packaging and processing expo on the continent, Pack Expo and the co-located Health Care Packaging Expo take place in Las Vegas, NV September 25 – 27, 2017. With over 900,000 square feet of exhibits, 2,000+ exhibitors, and over 30,000 attendees, this event is a must for packaging professionals and those seeking equipment. Here are 4 top trends in flexible packaging to watch for at the expo:
Flipping the premade pouch market
According to Flexible Packaging Magazine, four out of every five US manufacturers have been specifically pressured by customers to add new shape innovations to their packaging formulations. This year's answer to demands for diversity arrived on the market in August of 2017 in the form of the premade STANDCAP pouch. A revolution in both shape and function of flexible packaging, this inverted, wedge-shaped pouch style features a distinctive flip-top cap that serves as the base for the finished package.
Viking Masek now exclusively offers a new configuration of our dual-lane premade pouch machine that can fill and seal premade STANDCAP pouches at rates of up to 80 bags per minute. Exclusive to Viking Masek, the STANDCAP pouch machine is the wave of the future in liquids packaging.
Convenience is still king
Packaging continues to evolve to appease consumer desires for portability, convenience, and portion control. Modern consumers will happily pay a premium for packaging that makes their lives easier. Convenience options in high demand include:
Zipper reclosures
Resealable adhesive flaps
Single-serve on-the-go stick packs
Squeezable pouches for liquid products
With the pervasive on-the-go lifestyles inherent in modern society, convenience still reigns supreme, especially when it comes to packaging.
A stand-up choice in packaging
Stand-up premade pouches, often called Doypacks, remain one of the fastest growing flexible packaging formats. For good reason – they are attractive, convey a premium feel, and stand upright unassisted, acting as their own billboard and brand ambassador. Snacks, especially health-conscious and specialty products, have seen this packaging format become the standard.
Fill and seal machinery for premade pouches is seeing increased interest as a result. Speed, flexibility to package multiple bag sizes, and a small machine footprint are top among the demands of CPG companies and co-packers looking for premade pouch machines.
Packaging for E-commerce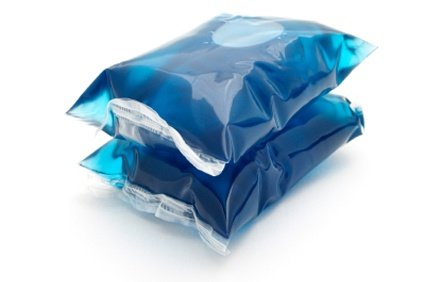 Nearly anything can be ordered online these days, including fresh, messy, or brittle food products that in the past were not able to withstand harsh handling and temperature changes inherent in shipping. Innovations in protective packaging and tougher films have made it easier and even advantageous to ship these items nation- or worldwide.
Meal kit home delivery companies have revolutionized not only the grocery delivery industry but have directly influenced innovations in packaging and shipping. Flexible packaging, by and large, is the chosen format for meal kits because it is lightweight, less costly to produce and ship, and is generally more versatile and flexible than rigid containers like jars and cans.
In addition to packaging for food items in meal kits, cold packs have also seen increased demand in this industry to keep fresh ingredients cool during shipment. Flexible packaging is the top choice for these liquid- or gel-filled packages, and many meal kit companies are eliminating outsourcing their manufacture in favor of bringing packaging for cold packs in-house with capital investment in liquids packaging machines.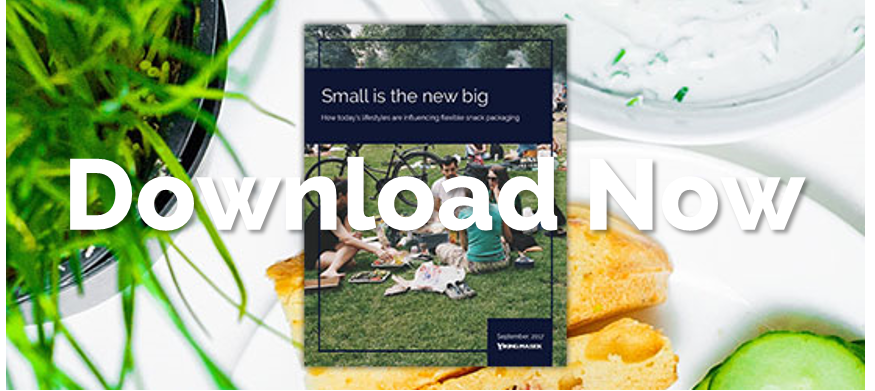 Snack Packaging eBook
Speaking of trends to watch, snacking is huge these days. Read about 4 top trends in the snack industry and how packaging is evolving as a result in our new eBook: Small is the New Big.
---