Co-Packing Lessons Learned from Shark Tank

November 29, 2016
If you've ever watched ABC's Shark Tank, you know there are plenty of CPG startups that enter the tank. If you're a co-packer watching the show, you might notice that many entrepreneurs blame their problems on a contract packaging partner.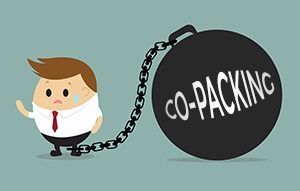 This might be frustrating to listen to, but you can find real value in the comments these presenters make about co-packers.
There are a few key questions you should be asking about packaging machinery as you outfit your facility, but sometimes it helps to look at real-world examples of co-packer friction. Shark Tank success stories such as PiperWai and Bubba's-Q Boneless Ribs offer a few lessons that can help you optimize your business for any customer.
PiperWai's Needs Reflect Those of Many Co-Packing Customers
The PiperWai all-natural deodorant company is on pace for 1,000% growth since its December 2015 deal with Barbara Corcoran on Shark Tank. But this growth was almost stymied by serious co-packing problems.
PiperWai had a 6-month relationship with a co-packer heading into its appearance on Shark Tank. The co-packer promised the startup that it could grow alongside PaperWai's demands—but ultimately admitted that they couldn't keep that promise after 3 weeks of backup from spike demands from the Shark Tank promotion.
The broken relationship left PiperWai with 70,000 upset customers and an immediate need for a new co-packer.
The immediate lesson to learn here is that you shouldn't make promises that could prove too demanding. However, the 3 needs PiperWai took into their search for a new co-packer offer more practical advice. PiperWai started looking for a new co-packer that could:
Invest in machinery to grow alongside PiperWai's demands
Balance scalability in production with product quality
Get up to speed within 1 month to make up for the 6-month backup.
These basic lessons don't just apply to PiperWai—they are common demands for any CPG company looking to scale through a co-packer. But they aren't the only problems your customers might experience. Bubba's-Q Boneless Ribs offers a different scenario.
Flexibility Is Key—Just Ask Bubba's-Q Boneless Ribs
Bubba's-Q Boneless Ribs had a strong relationship with a midsize, Missouri-based co-packer before Shark Tank. Once Bubba got a deal, the co-packer realized that it wouldn't be able to scale production to the level that the company needed. Unfortunately, this forced Bubba to issue refunds for half of his orders at the time.
This may seem like the same situation that PiperWai faced, but Bubba's search for a new partner offers some insight for co-packers.
The main issue that Bubba encountered when searching for a new co-packer was the fact that he sat squarely between the production levels of so many companies. While midsize co-packers were too small to have the 5,000lb smoker he needed, large co-packers wouldn't accommodate production any lower than 50,000lbs.
It took Bubba 2 years to find a new co-packer—one that ultimately came onto the company's board as a new partner, committing the co-packer to continuously scale to meet production needs.
Now that Bubba's rib company does more than $100 million per year in revenue, the lesson for smaller co-packers is that flexibility is key. Had the Missouri-based co-packer been able to adapt to growing demands, they may have been in line for much bigger business.
Such flexibility won't always make sense for your co-packing business, but it's important to have flexible machinery if necessary.
Keep Up with Customers Through Innovation
Co-packers aren't immune to the increasingly rapid pace of technology turnover. The machinery and factory-floor equipment that has served you so well for years might not be capable of meeting greater pressure from new customers. Companies looking for co-packers have higher expectations and you must keep up.
All of the Shark Tank lessons here could boil down to PiperWai's first requirement for its new co-packer—the need for co-packers to invest in packaging machinery that can reliably scale production. You can't just refresh your old set of machines—innovation in packaging is a necessity.
If you want to learn more about how various packaging machinery vendors are innovating products to help you keep up with customer demands, check out this episode of Innovations from the Discovery Channel.
Watch Discovery Channel Program
---