Spotlight on high-speed packaging with the VFFS Velocity

January 18, 2018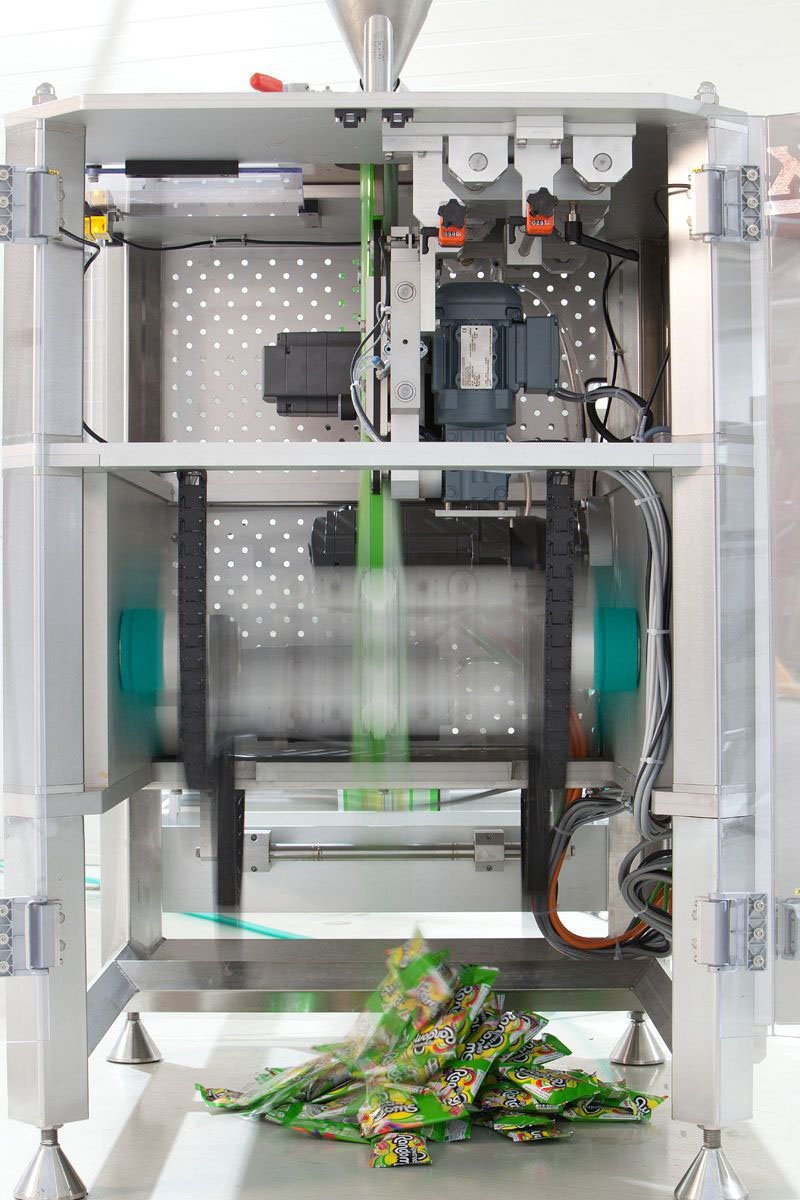 High-speed packaging is in high demand. CPG companies and contract packagers, now more than ever, must produce and package their products in a quicker, more efficient fashion to keep their clients happy and ensure an adequate supply for all of their distribution channels. The solution: High-speed packaging automation with the fastest vertical form fill seal (VFFS) machine in the world: The Velocity.
Shopping for high-speed VFFS equipment? Download our guide for 5 top questions to ask OEMs to ensure you get a quality machine. >>
What's sets this VFFS machine apart?
Let's be honest: Vertical form fill seal technology has been around for quite some time, and most VFFS machines operate in more or less the same way. The difference is in the small, almost invisible details: Machine construction materials, design, and advanced features.
The VFFS Velocity particularly excels in those areas. Named for its record-setting speeds, this packaging machine also has specific enhancements that set it apart from the competition:
The need for speed…and quality
The vertical form fill seal Velocity is the fastest vertical form fill seal (VFFS) machine in the world, period. At true production speeds of up to 200+ bags per minute, the packaging process is lightning-fast. And it's not enough to just package quickly; finished packages also have to pass quality tests. The Velocity's newly improved flexible vertical band heat sealing system ensures a perfect seal, every time, even at high speeds on small bags.
A smooth operator
The VFFS Velocity's center-mounted filling tube and naturally counterbalanced sealing profile are designed to provide vibration-free, quiet operation at all speeds. Remember, vibration and noise equal wear and tear on a packaging machine. Smooth and quiet operation means a longer lifespan for your equipment and its components.
Two jaws are better than one
On most continuous motion VFFS machines, a single horizontal seal jaw creates both the top and bottom package seals. The Velocity does one better (literally): It features two independently-phased sealing jaws that work in tandem. Each jaw moves in a circular fashion, one creating the top seal and the other creating the bottom seal. This virtually eliminates lost cycle time that would otherwise be spent on a single jaw moving up and down to create both horizontal seals.
Small spaces? No Problem.
The Velocity is short and has a compact footprint, making it a great fit for facilities where space is at a premium. In fact, if you stand right next to the machine, chances are you will be taller!
Is a high-speed VFFS machine right for your business?
Recommended industries
The VFFS Velocity is a great high-speed packaging solution for many industries but is best suited to dry goods like coffee and snacks. Because these products are not very cohesive or sticky, they can transport faster and as such achieve higher packaging speeds. This machine is also great for contract packagers who are always racing against the clock to produce more, faster, now.
Package types accommodated
The Velocity can create a number of package styles but is best suited to simple, small pillow bags. Requiring only a top, bottom, and vertical seal, this bag type can be packaged faster than other more complex types.
Investment required
In general, the faster the speed of the packaging machine, the higher the initial investment. The VFFS Velocity will cost more than entry-level equipment but is still within reach for most small and mid-size companies. When you take into consideration throughput gains and minimal ongoing maintenance requirements, the total cost of ownership of the Velocity is quite reasonable.
Learn more about high-speed VFFS machines:
VELOCITY FEATURES AND SPECIFICATIONS
Videos: High-speed packaging equipment
5 top questions to ask when shopping for a VFFS machine
---