Snack food industry trends: Small is the new big in snack packaging

May 5, 2020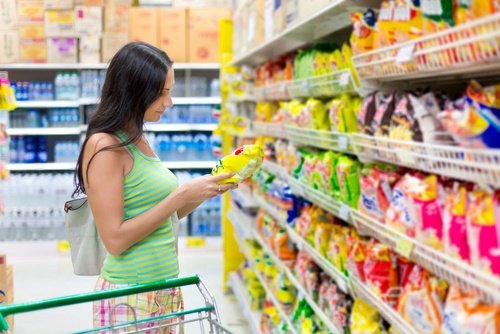 Snack-size. 100-calorie packs. Single-serve.
All of these snack packaging formats have one thing in common: They were created to attract and appease a consumer that desires easy, portable, pre-portioned snack foods.
We now live in a world of 'snackification', with many consumers replacing large meals with snacks, grazing throughout the day. The snack food industry has responded enthusiastically with smaller packages of consumer favorites.
Unites States of snacking
Statista reports that in 2020, snacking is a booming $100+ billion business in the United States, with the average person in the US spending $303 yearly on snack foods and consuming 34.6 kg of snacks every year. That's a lot of chips!
Snacks account for 51% of all food sales, and 92% of adults in the US have snacked within the last 24 hours.
Mintel's Snacking Motivations and Attitudes report agrees that consumer snack frequency is increasing. According to the report, "5% of US adults snack daily, and 70% do so 2+ times per day [and] the percentage of 'super snackers' (those who snack 4+ times per day) is increasing,"
Snacks account for a whopping 51% of all food sales, and 92% of adults in the United States have snacked within the last 24 hours. Think about it - when was the last time you had a snack? Chances are it was in the past day, or past few hours if you're like me! Busy consumers no longer strictly eat during typical meal times, instead, they graze or snack as they become hungry, sometimes skipping traditional meals altogether.
Snacking in place in 2020
During times of increased stress, comfort foods see rising demand. In the midst of a global health crisis like COVID-19 when many consumers and their families must remain home, this trend was especially apparent.
IRI reports that online snack dollar sales grew by 46% year over year in March 2020. During the period of January 20-April 5, 2020, the largest growing snack segment was "kernel popcorn and frozen cookies, which saw dollar sales grow by 38.3% and 34.5%, respectively, as consumers want convenience with homemade results."
Additionally, when it comes to times of health crisis, consumers need extra assurance that their favorite snacks are safe to eat. They want to know what they are eating has been handled by as few people as possible. This became especially apparent during the COVID-19 outbreak of 2020 when demand for single-serve products surged. Smaller packages were seen as more sanitary because of limited access to package contents.
Which brings us to our next (and most prolific) snack packaging trend:
Bulk snack food packaging is not better
According to a Packaging Strategies survey, readers felt, by the largest margin, that single-serve packaging is a snack trend that is here to stay. The proof is on store shelves: Single-serve packaging formats now complement traditional package sizes.
In the past, bulk snack food packaging was the standard. Consumers expected to portion out products on their own and felt buying in bulk was the frugal and responsible choice, especially for families. However, today's emerging generations desire convenience and portability above all, and this is especially evident when exploring current snack food industry trends.
No longer purchasing on price point alone, the Millennial and Gen Z generations are happy to pay a premium for snack foods that are already pre-portioned in single-serve packaging for their convenience. Since the cost is widely viewed as value-added, consumers don't balk at paying a premium if it means not having to compute nutritional values or dole out servings manually. This generation is now having children, and these purchasing habits will come into play as they purchase snacks for their growing families.
Snacking on dairy
Also contributing to the snackification trend are changes in dietary guidelines and consumer attitudes that impact food markets not typically considered for snacking.
With revised nutrition guidelines that no longer vilify fat and the increased popularity of ketogenic and low-carbohydrate lifestyles, dairy is no longer considered just a mix-in, addition to a meal, or topping. Dairy products in premium, single-serve package formats are now seeing a growing market as snack foods. Convenient dairy innovations seen on store shelves now include:
Single-serve packages of cottage cheese
Snack-size packages of cheese cubes
Protein packs featuring an assortment of cheese, meat, and nuts
Sour cream in a squeezable STANDCAP pouch with a flip-top cap
Meat gets a snacking makeover
In keeping with the movement away from sugary snacks and toward savory snacks higher in fat and protein, meat has, like dairy, found a burgeoning consumer market.
Beef, chicken, and other protein products have long been the centerpieces of meals and still are. However, recent re-positioning of protein-heavy products as health food has sent protein careening into center stage as a snack food as well. Beef jerky is now experiencing newfound popularity as a snack. Snack-size pieces of cured meats are also making appearances in on-the-go protein packs.
In keeping with the movement away from sugary snacks and toward savory snacks higher in fat and protein, meat has, like dairy, found a burgeoning consumer market with individuals subscribing to a lifestyle lower in sugar and carbohydrates.
Smaller equals sustainable
While it can be argued that smaller packages create more packaging waste, it can also be argued that food waste is an even bigger problem. In fact, Packaging Digest says that "ten times more resources—materials, energy, water—are used to make and distribute food than are used to make the packaging to protect it."
With up to 40 percent of food in the United States never eaten, keeping food fresher longer is paramount. When items are packaged in bulk formats, opening, closing, and reopening the package over multiple uses exposes food to oxygen and contaminants that cause staling and degradation. On the other hand, single-serve packaging is often consumed in a single sitting, resulting in little to no food waste.
Read more about snack food industry trends
Learn about how today's lifestyle and snacking trends are literally shaping (and shrinking) modern snack food packaging in our free eBook: Small is the New Big:
Originally published 12/7/2016, updated 4/18/2018, 11/21/2019, 5/5/2020
---