New Marking and Coding Innovations for Multi-Lane Packaging Equipment

November 11, 2016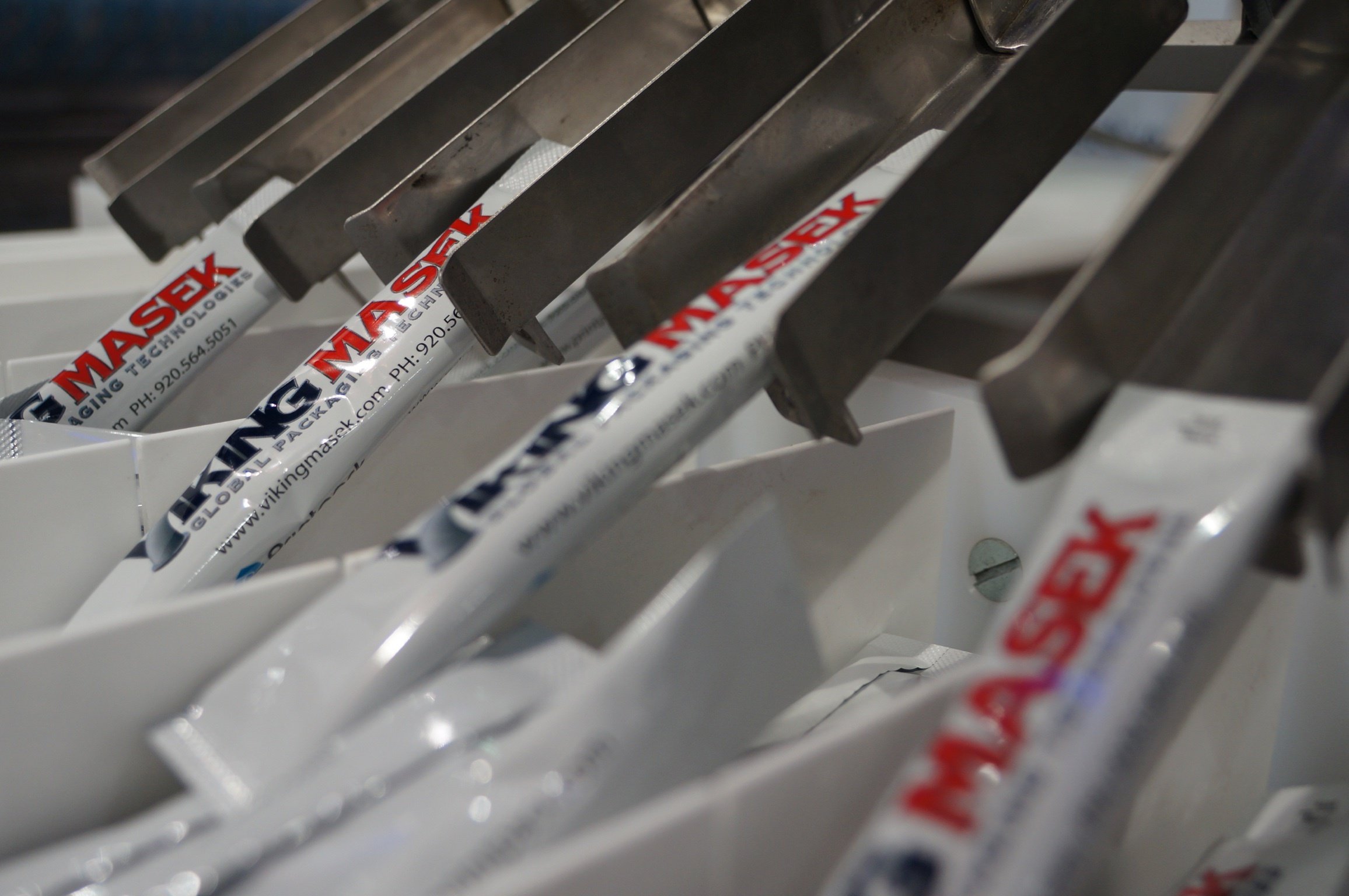 A continuing challenge facing users of form fill and seal machines revolves around marking the packaged product with an expiration date, lot, or batch code. Traditional solutions for pairing marking and coding equipment with a form fill seal machine typically involve traversing printing technologies. To achieve many lanes of coding, manufacturers typically need multiple traversing machines, multiple controllers, and to separately manage consumables for each coding machine. The long lengths of printhead travel on these traversing technologies wreak havoc on wear parts and tend to slow down the throughput of the machine. There are solutions on the market that mitigate these factors, and today we're doing a Q&A with a product specialist at Diagraph to learn about the newest innovation in multi-lane marking and coding technologies.
Introduced to North American manufacturers for the first time at Pack Expo International 2016, the Allen MLi-TE multi-lane thermal transfer printer from Diagraph Marking & Coding addresses challenges inherent in multi-lane marking and coding by providing a high-resolution print solution that is designed for multiple lanes of print, simplifying packaging machine maintenance, and reducing downtime by as much as 80%. This is achieved through a unified, configurable design that requires only one controller and one consumable for up to 12-lanes of print.

The product specialists at Diagraph help us understand more about this new coding solution:
Q. What is the benefit of having multiple thermal transfer heads?
A. Making multiple printheads available in a single machine allows for the simultaneous printing of codes and marks across all packaging lanes. This results in a very fast throughput, allowing indexing rates to be maximized to increase production capacity. Additionally, line operators only have to manage one consumable with the Allen MLi-TE – clean thermal transfer ribbon – as opposed to multiple fill points for messy liquid chemicals found in traversing CIJ systems. This simplifies changeovers and results in less downtime.
Q. How is the single unit design beneficial?
A. The single unit design allows for easier integration into equipment like a vertical form fill and seal (VFFS) machine, stick pack machine, and more. The Allen MLi-TE can be positioned either parallel with or perpendicular to the flow of the packaging film in the host equipment. This versatility helps with integrating the Allen MLi-TE into standard and custom packaging machines.
What's more, it's protected and contained with no exposed moving cables like you'd see on a traversing CIJ. This results in decreased integration time and expense along with longer life and less maintenance.
Q. What is the print quality like for the MLi?
A. The print resolution for the Allen MLi-TE is 300 dpi (12 dots/mm). Diagraph offers free ribbon testing to match the appropriate ribbon to the chosen film, ensuring optimal ribbon-to-film adherence and resulting in a bold, indelible mark on non-porous web material. This minimizes the risk of costly product rejection and rework due to failing identification markings.
Q. All I need to print is a simple expiration date and lot code. How difficult is it to program this printer?
A. Message creation is easily accomplished using the a:design2 Basic which is provided with the Allen MLi-TE at no additional charge. This makes message creation or changes quick and flexible without the need for skilled IT personnel or a computer expert.
Q. What industries is the Allen MLi-TE suited for?
A. Food industries (such as condiments, sugar, spices, processed meats, cheeses, pouches, candy bars and more), beverage industries like coffee and drink mix, pharmaceutical industries using blister packages, and the medical supply industry (syringes, sutures, IV bags, catheters) utilize form fill and seal machines to maximize their throughput. The Allen MLi-TE pairs well with multi-lane stick pack machines or sachet machines in any of these industries.
About Diagraph
Diagraph began serving the marking and coding industry 110 years ago and became part of the Illinois Tool Works (ITW) family of companies in 2001. They offer the most comprehensive line of marking, coding and labeling systems and supplies in the industry. This includes small character continuous ink jet, large character and high-resolution ink jet, automated label printer/applicators and label applicators, stand-alone label printers, software, material handling, scanners, verifiers, stock and custom labels and ribbons, inks, and traditional marking and shipping products and supplies.
About Allen MLi-TE Printing Technology
The Allen MLi-TE from Diagraph offers the industry's best throughput, footprint, and value for multi-lane printing compared to competing traversing and multi-head technologies. Learn more about the Allen MLi-TE or request to speak to one of Diagraph's product specialists about your project.
---