Flexible Packaging Machine Spotlight: Stick Pack

February 26, 2016
Viking Masek continues to lead with an outstanding range of machines, and our variety of Stick Pack machines are no exception. Designed to form, fill, and seal stick packs from 17 mm to 100 mm in width, our range of Stick Pack machines are multi-lane; they can efficiently fill anywhere from two to twenty sticks at once. These Stick Pack machines in models ST400, ST600, ST800 and ST1200 are rugged and durable machines that can fill any size order quickly. With a run rate of up to 80 sticks per minute per lane, these versatile machines are ideal for any co-packer or producer.
A Brief Stick Pack Tutorial
Stick Pack machines are perfect for packaging a wide variety of powders, granulars, and liquids. Powder products can be dense, fine, loose and particulate materials, and liquids can be water-like substances, gels, and pastes. These machines are also built to accommodate different stick designs including pour spouts and specialty die-cut shapes, and can also feature easy-open options like tear notches and micro-perforations.
All stick pack machines can utilize the following fillers:
Liquid Fillers (for liquid, gel, and paste type products)
Auger Fillers (must be used for powders and dusty products)
Volumetric Fillers (for free-flowing non-dusty powders like sugar)
Tablet and Pill Counters (for the pharmaceutical and nutraceutical industries)
Popular widths for stick packs are 23 mm and 35 mm. A width of 17 mm is the smallest achievable on our stick pack machinery, and is internationally known as the "sugar stick". Because of the small diameter of the interior of the 17 mm wide package, it is too small to utilize auger tooling. The product must be free-flowing and non-dusty like sugar and filled volumetrically.
What Sets Our Stick Pack Machinery Apart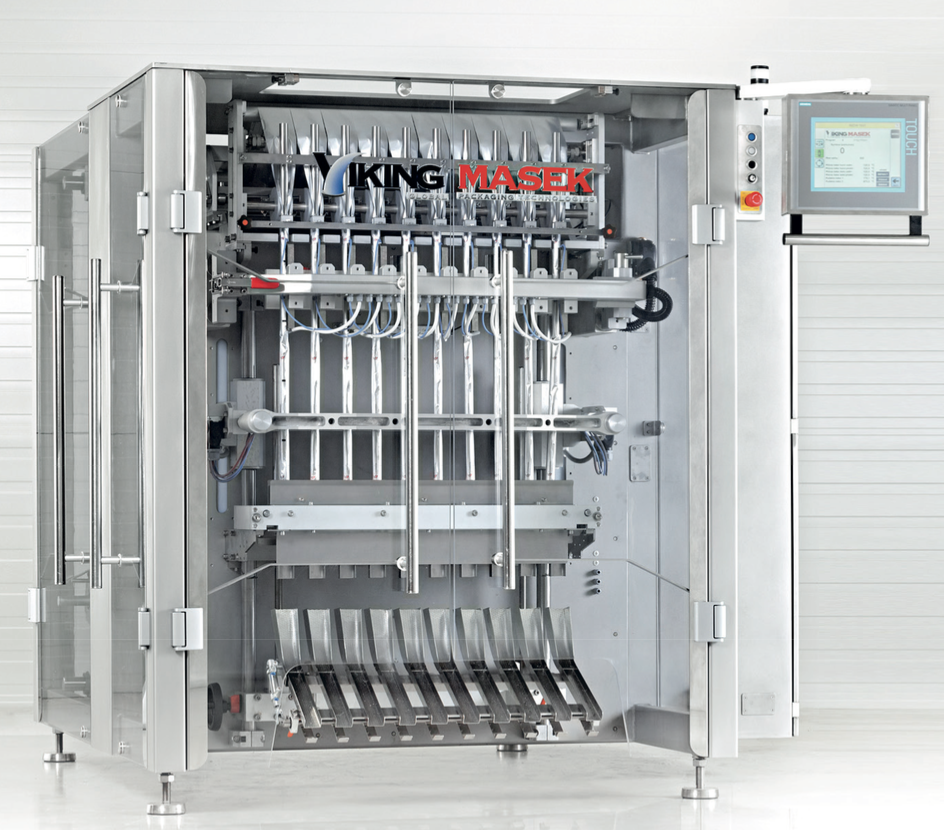 Viking Masek prides itself on its superior quality packaging machines, and the Stick Pack machines we offer are no exception; they're built to last. The robust build of the machine itself includes a stainless steel frame which is more durable than other materials. If heat transfer may be an issue, we utilize high-quality aluminum in those areas of the machine to protect both your product and the machine's integrity. In addition, no matter the material of the product you're packaging - even liquids or acids - the machine is built to package in any condition without rusting or malfunctioning.
Viking Masek offers the widest scope of stick pack models on the market today. We offer everything from entry level two-lane stick machines to the largest stick machine currently on the market: The massive ST1200.
Our job doesn't just include selling stick pack machinery, however. We also size sticks and test film for customers, offering our recommendations every step of the way. Very seldom do we get a call that one of our stick pack machines is down; they simply keep running. If a customer does need support for their machinery, our after-sales support from our technical service and engineering departments is second-to-none. Many issues can be easily troubleshooted with a quick chat online or over the phone and corrected remotely and immediately from our location.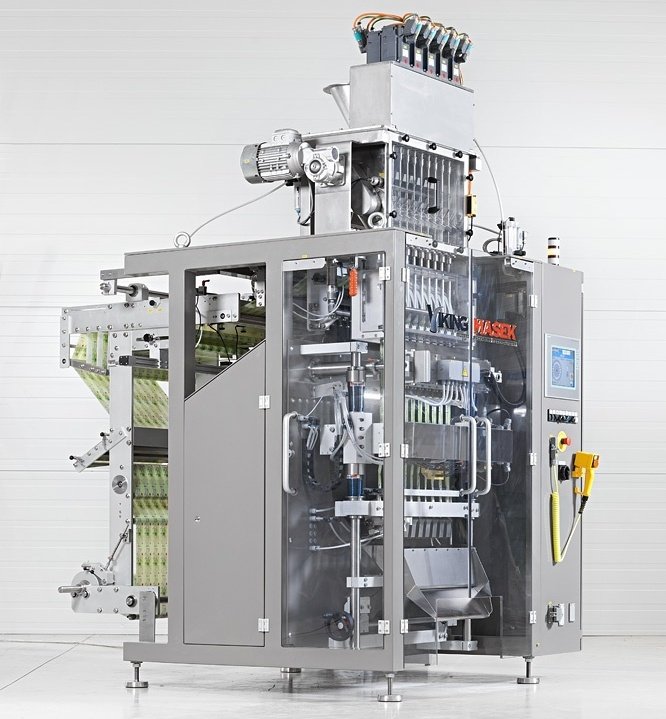 In addition to machine construction quality, the ancillary equipment available through Viking Masek for the Stick Pack machine enables our customers to automate their packaging easily from tote to pallet. We offer ancillary equipment with capabilities like stick counting using a chute with a trap gate and takeaway conveyors that count into a carton. We also offer printing options that can print a use-by date and lot number on each stick.
Viking Masek also offers fully automated cartoning solutions - cartoners and case-packers to efficiently and automatically package and prepare your product for shipment. The Stick Pack machine is frequently the solution that co-packers and producers are looking for to rapidly form, fill, and seal the flexible packaging their customers desire for their product, and they choose Viking Masek as a full-service option for turn-key packaging solutions.
Because of its versatility and available options as well as its rugged design, the Stick Pack machine from Viking Masek is used by a wide variety of industries. Next are some of the specifics.
Industries Served by the Stick Pack Machine
One of the most popular applications the Stick Pack machine is used for is packaging powders - drink mixes, nutraceuticals, spices, and flavor-packs. This machine works well for the powder packaging industry in the following ways:
The on-the-go trend is here to stay - and so are stick packs as a result. Stick Pack machines can easily form, fill, and seal the small bags that other machines would struggle with, which is perfect for single-serving mixes and powders that many consumers find convenient for on-the-go consumption of coffee, drink flavors, and more.
Pre-packaged food mixes for easy cooking often require multiple flavoring packets to be included in the box - and that's exactly what the Stick Pack machine is designed to do. Whether it's a spice mix bag or a one-ingredient addition, the stick pack is the perfect packaging solution.
Another popular industry using the Stick Pack machine is the nutraceuticals industry, packaging liquids and gels. Nutraceuticals often include powders, but they also focus on gels and liquids for athletes and those wanting to live a healthier lifestyle. Here's why this machine works for this particular application:
Viking Masek's Stick Pack machinery can be customized to operate in a wide range of environments, from a cooking room packaging warm gels to cold rooms for dairy products.
Viking Masek's quality seal ensures that no product will be leaking from the sealed bags that could make the rest of the batch sticky, protecting both the product and the consumer from a mess.
Multiple bag types, options, and sizes are accommodated by the Stick Pack machine, from how it's sealed to how it opens. This makes it ideal for packaging multiple types of nutraceutical products.
In addition to the powder and liquid industries, we see the convenience of the stick pack bag expanding into a variety of other markets, all needing a Stick Pack machine to fill them properly.
---