Packed with potential: The apprenticeship experience at Viking Masek

May 16, 2019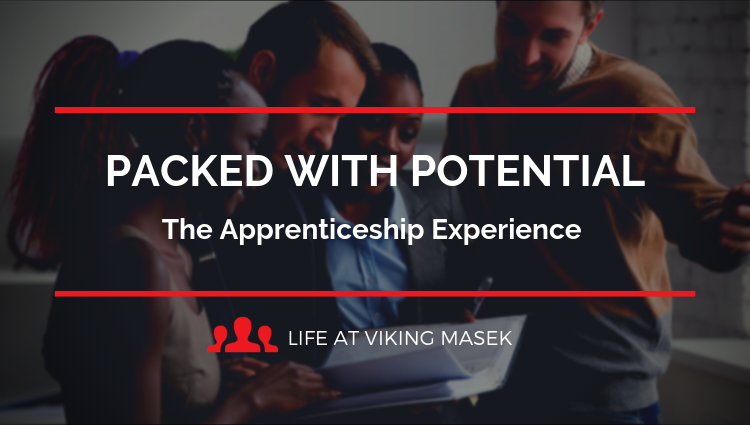 Each year, Viking Masek welcomes apprentices and interns from high schools and colleges throughout Sheboygan County. They join our team and work alongside professionals in areas like accounting, engineering, information technology, and marketing. Apprenticeships offer valuable real-world experience in a student's chosen field of interest and are often a student's first look into the day-to-day of a particular career.
So what is apprenticing at a packaging equipment manufacturer really like? What kinds of things can you learn? What advice and tips would current apprentices give the incoming class? I sat down with 3 of our current apprentices and got some answers. Join us for an inside look into what the apprenticeship experience is like at Viking Masek:
Take a video tour of Viking Masek's USA headquarters >>
The 2018 - 2019 Viking Masek apprentice lineup
Jacob Strojny: Engineering Apprentice
Sage Vorpahl: Accounting Apprentice
Trevor Wisse: Accounting Apprentice
1. How did you find out about the apprenticeship and what was the interview process like?
Jacob Strojny: I found out about LTC's Youth Apprenticeship program through my CAD teacher at Sheboygan Falls High School, Ed Hughes. For my application, I had to submit the course work I completed, write short responses to a series of questions and then write a summary about myself and the work that I have done.
Sage Vorpahl: My high school teacher at Cedar Grove Belgium High School mentioned the Lakeshore Technical Youth Apprenticeship (YA) to me when I expressed to her that I was considering majoring in accounting during college. I didn't know who/what Viking Masek was until I got an email saying I was selected to have a job interview.
I was expecting a pretty formal interview, but it was relaxed. Everyone was super friendly and the overall atmosphere was nice and welcoming. - Sage Vorpahl, Accounting Apprentice
The application itself was, despite time-consuming, easy. The interview on the other hand... the time leading up to it was nerve-racking. I was super excited that I had been selected for an interview but at the same time I was horrified. Since I had never worked in the accounting field and my current job at the time was a cashier, I felt under-qualified for the job. When I first arrived at Viking, I was expecting it to be a pretty formal interview, but it was relaxed. Upon entering, everyone was super friendly and the overall atmosphere was nice and welcoming.
Trevor Wisse: I learned about the opportunity from people at LTC where the Youth Apprenticeship program is run. I had to send in an application to LTC and then LTC sent it out to Viking Masek, after that I got an email and all parties involved got in touch to get an interview lined up.
2. What have been your favorite parts of your time at Viking Masek?
Jacob: My favorite part is the amount of trust that is put into me. Every day I come in I know that I'm helping the other engineers and working on tasks that are important. My favorite project during my apprenticeship was developing a new printer window bracket to reduce the number of rollers on one of our packaging machines. It was my favorite because I had a lot of freedom to go in whatever direction that I wanted with the design.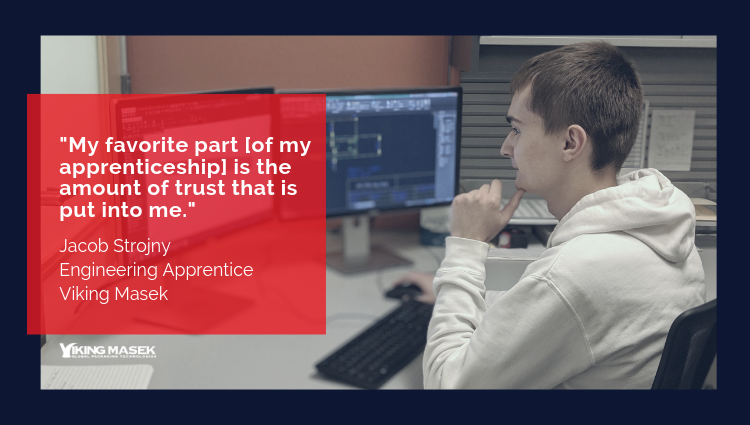 Sage: I would have to say my favorite part of the internship is the people I get to work with and the diversity of tasks I get to do. Everyone is super friendly and we all work well together. If I have a question for someone, anyone, they are always super kind and help me to understand, even if it takes a few attempts of explanation. I really just enjoy everything and the variety it comes in. From service to parts to month end tasks, I like it all.
Trevor: I think that the atmosphere is awesome. Everyone here is so nice and helps each other out. Also the building is great to work in. I don't think there was one project that was my favorite, I liked them all.
3. What unexpected things did your apprenticeship uncover about your career field of choice?
Jacob: Before I started my apprenticeship I never thought about having to get quotes for pieces designed. A second thing I never thought about is the amount of data management and organization that is needed.
Sage: If you sit on your butt for an extended period, even while in a comfy chair, your body will tense up and you'll eventually become uncomfortable. Its best (and I would highly recommend) to take a few minutes every now and then to get out of your desk and just walk around.
Trevor: I didn't know what to expect exactly, so there really wasn't anything unexpected.
4. Do you have any advice to share with incoming apprentices or interns?
Jacob: The advice that I would give to an incoming apprentice is to make sure you have an easy/efficient way of keeping track of your projects and tasks. The best advice I received during my internship was to not be afraid of making mistakes because we all make them. The key is to learn from your mistakes to become better at what you are doing.
Sage: It's going to seem like a lot at first... don't stress it. A lot will be thrown at you and there may be no end in sight… but it gets easier, a lot easier. Every time you do something new, make a process for it. This has saved me time and time again from having to ask questions and stalling other Viking team members. It's also just a great idea in general. Being that I was new, I had no idea how to do any of the day to day tasks that are now expected of me; without these processes to look back on and learn from, it would have made the learning process much harder to 1) learn and 2) remember.
Trevor: Work as much as you can, it helps when learning new processes and jobs. And always strive to figure out a way to improve the process.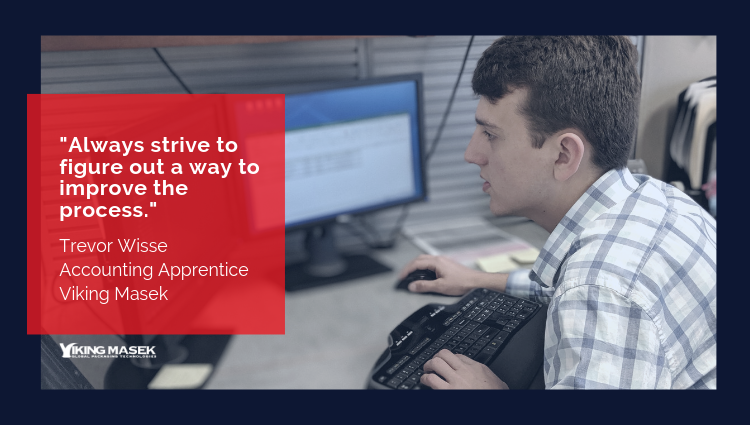 5. What's next for you?
Jacob: My future plan is to study at University of Wisconsin Stout for mechanical engineering.
Sage: I will be attending Lakeland University starting fall of 2019 and I will be majoring in Accounting. I plan to get my bachelor's and then continue with my studies to become a certified CPA. After college, I plan to stay local and maybe settle down in Oostburg.
Trevor: Next fall I will be attending UW – Green Bay to study Business Administration and Accounting.
Apprenticeship resources
Read more engineering and accounting apprentice stories
Lakeshore Technical College Youth Apprenticeship Program
Lakeland University Internship Program
Interested in career opportunities at Viking Masek?
We are always looking for the best and the brightest talent! Check out our open positions:
---