5 top food packaging industry trends

May 9, 2018
The world of food packaging is changing.
Transparency in labeling, sustainability concerns for snack packaging and coffee pods, and the rise of the stand-up pouch are just a few trends to watch in the food packaging industry.
current food industry trends are influencing (and shrinking) snack packaging. download our free snacking trends ebook to learn more. >>
1. Clean and clear prepared foods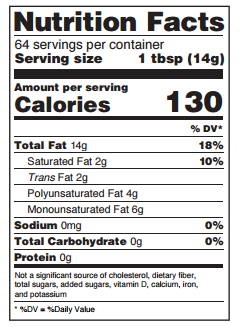 According to a report from Prepared Foods, a clean and clear label is the new global standard. Consumers demand total transparency, from farm to table. This means that when a food product is labeled 'environmentally friendly' or 'free range', the companies involved in its harvesting, processing, and packaging better be able to demonstrate those claims.
New nutrition label requirements have also encouraged more transparency as far as product ingredients and nutrition facts are concerned, enabling consumers to make informed choices when it comes to their health.
Pro Food World reports that consumers are tuned-in to food safety now more than ever. They desire no surprises when it comes to the processing of their prepared food items, and a product's supply chain 'story' must be easy to find and to understand via clear and easy to read package labeling.
The desire for clear packaging goes one step further; not only do consumers desire package design that clearly articulates its contents, but they are attracted to packaging that contains a clear window to view the products within. This provides a visual reinforcement that the product is fresh.
2. Sustainable single-serve snacking trends
Single-serve and controlled portion packaging have been a boon for both the snack food industry as well as consumers. For snack producers, offering top-selling products in different packaging formats means additional appeal to different consumer demographics. For consumers, single-serve packaging means they can snack without being concerned with measuring and math to figure out the nutritional content of a single serving size, not to mention small packages are portable and convenient.
As great as this packaging format is from a market demand standpoint, for those concerned with packaging sustainability and waste, it presents a problem. Good news: As more consumers demand sustainable packaging materials, the more innovation occurs in that market.
Compostable and environmentally responsible packaging formats are becoming the standard instead of just a passing trend. Leading global producers of single-serving food products have been innovating with environmentally sustainable packaging materials as well as focusing on reducing the carbon footprint created by their products throughout the entire supply chain.
As these technologies are adopted by a greater number of key industry players, competition will increase in the sustainable packaging market, and packaging materials that may have once been cost-prohibitive will become more affordable for smaller businesses.
3. Flexible packaging for Fido's food
Debbie Phillips-Donaldson of Pet Food Industry blog reports that while rigid packaging like cans still dominates in pet food market, flexible packaging in bags and pouches is quickly gaining ground. She explains that "in 2012, only 8 percent of new wet dog foods and 6 percent of new wet cat foods were in trays or pouches...now those figures are 20 percent and 26 percent, respectively, year to date. Sales of...pouches [are] showing 23 percent growth."
Flexible packaging formats like stand-up pouches are gaining ground in this industry for many reasons, among them:
With increasingly crowded shelves in the pet food aisle, stand up flexible pouches differentiate a product from its rigid competition.
Flexible pouches are easier and safer to handle, require no extra tools to open, and often feature resealable options.
Stand-up pouches offer a great canvas for marketing and more visible surface area than cans.
4. Uncertain future for coffee pods
The single-serve coffee pod movement began to take the industry by storm around 2012. Single cup coffee makers have been a hot product for many years since then.
Recently, however, concerns have been raised regarding the amount of packaging waste single-serve pods create, especially when consumers drink multiple cups of coffee per day. While it can certainly be argued that a decrease in water and product waste occurs when a single cup is brewed and consumed at a time, concerns still abound regarding the amount of packaging waste single-serve pods create and if it is a truly sustainable packaging format.
Coffee roasters and producers have responded to these concerns with compostable or recyclable construction of single-serve coffee pods. This has appeased concerned consumers, for the time being, especially the eco-conscious Millennial coffee consumer group. However, only time will tell if these convenient pods will remain a staple in the industry or become just a passing trend.
5. Premade stand-up pouches for the win
In almost all food packaging markets, premade custom pouches have seen increased demand and that trend is poised to gain further momentum. From its clean, premium look to ease of shipping and handling to innovations in flexible pouch packaging for messy items like creams, soups, and sauces, demand for preformed pouches shows no sign of slowing.
Machinery to fill and seal premade pouches has also increased in demand, with the hottest applications being protein powders, dairy, liquids, and non-grain flour alternatives. The snack industry has seen a recent uptick in demand for premade pouch packing machinery as well, with popular applications being granola and meat snacks like beef jerky, the latter of which is seeing a resurgence in popularity as a healthy protein-filled snack.
More food packaging industry trends
Speaking of food industry trends, have you heard that flexible snack packaging is growing...and also shrinking? Yes, we're serious. As demand for convenient, portable snack packaging grows, snack package sizes are getting smaller. Read more about this and 3 other top snacking trends in our free ebook: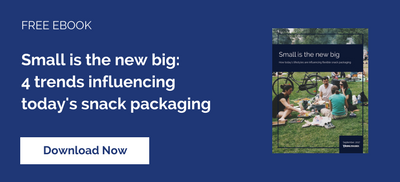 Originally published 11/28/2016, updated 5/9/2018.
---