Packaging industry predictions: 5 top trends to watch in 2020

October 31, 2019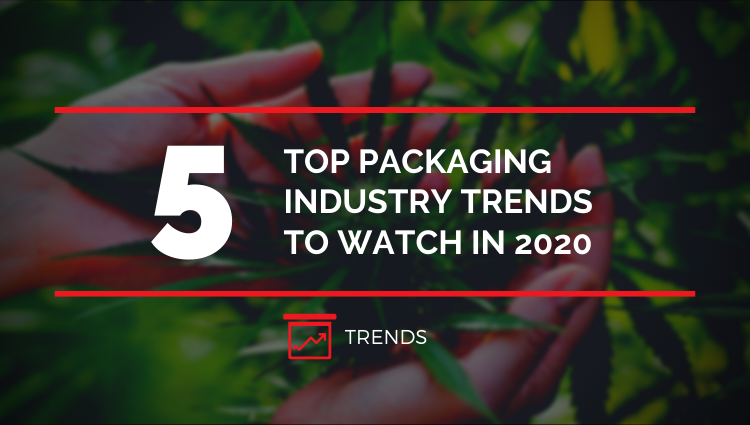 It's that time of year once again!
The packaging industry experts at Viking Masek recently met to discuss their predictions for the industry in 2020. Cannabis packaging automation was a hot topic, as was pervasive labor challenges and the rise of private label. Read on for 5 top trends to watch:
1. A new frontier: Cannabis packaging equipment
When cannabis products were entirely illegal, they were weighed and packaged in small quantities by hand. The clear plastic baggie was the packaging of choice, mainly for cost and practicality.
Then, in 2012, something historic happened: Colorado and Washington both legalized adult recreational marijuana, with the first retail sales occurring that year. In 2014, the first retail marijuana shops opened in both states. With that, entirely new markets, revenue streams, and supply chains were created. As everyone scrambled to meet demand and figure out how to navigate this new market, they did not have the time or resources to invest in optimizing their packaging processes.
Fast forward to today: As the market has matured over the years, we have reached the next frontier in the development of cannabis packaging. Now that they've ironed out the kinks all startup businesses face (especially in a completely new industry), cannabis manufacturers can focus on refining the look of their packaging, increasing ROI, and upgrading to the latest packaging automation technologies.
At Viking Masek, we have seen tremendous growth in demand for cannabis packaging equipment over the last few years. 2019 was a historic year for us in this market, as we sold more cannabis packaging machinery than ever before. And we expect it to keep on growing in 2020.
Packaging World agrees that the time is now for expanding, automating, standardizing, and developing best practices for cannabis packaging.
So how does packaging automation work for the cannabis market? It's easier than you think. Watch a video of a pouch fill and seal machine packaging cannabis gummies:
Read our beginner's guide to cannabis packaging equipment >>
2. Simple packaging solutions for labor challenges
"We just can't find good people."
"We don't know if this week's employees will still be here next week."
"We should have a permanent Now Hiring sign out front."
Sound familiar? Many of the manufacturers and contract packagers we talk to are facing the same labor challenges, top among them a shortage of skilled labor and high turnover among production staff.
As a solution to these challenges, many are investing in packaging automation, as this frees up resources previously dedicated to manual labor and creates predictability and scalability in their production output.
However, you still need a few humans to operate and maintain packaging machines. If you are dealing with an unpredictable labor pool, you want machinery that needs little babysitting and is easy to learn and operate.
Things like color touchscreen HMIs (Human Machine Interfaces) are great for this reason: They provide highly visible, easy to read, realtime feedback on the machine's operations. Another attribute of simple packaging machinery is easy, tool-free changeover. This means changing the components of a machine to accommodate different bags requires zero tools and very few steps. The pouch packing machine is great in this regard: Changeover often takes less than 5 minutes and can be completed by entry-level personnel.
3. Flexible packaging (still) winning
According to PMMI's 2019 Flexible Packaging Market Assessment, "flexible packaging accounts for 19 percent of the overall packaging market and is expected to grow at a rate of 3.9 percent CAGR by 2023." Flexibles are the second largest packaging segment, beaten only by corrugated paper.
So why all the love for flexible packaging? Convenience, cost, and sustainability.
The convenience of portable, on-the-go packages is appealing to a busy consumer base. Additionally, parents with small children love flexibles for their safety and practicality. When it comes to cost-cutting, flexibles win again, especially in the growing world of e-commerce. Lightweight and protective during shipping, flexible packages are a perfect fit for the perils of long-distance travel. Sustainability is also a huge driver for the growing flexible packaging market: New developments in sustainable materials, right-sizing packaging to its contents, and a lower total carbon footprint make flexibles a top choice for sustainability.
4. Lead time is a lead issue
Anyone who works with or for packaging equipment manufacturers knows that lead times are getting longer. Why? Custom design, OEMs that have exceeded their production capacity, and international trade challenges, just to name a few. There is no way around it: Growing lead times for packaging machines are one of the top challenges everyone in the industry faces, both OEMs and end-users alike.
Long lead times can potentially mean lost revenue and missed deadlines for the end-user, which no one wants. Smart packaging equipment manufacturers are addressing this reality head-on by maintaining an in-stock inventory of high demand, standard models of their equipment. These stock machines can potentially cut delivery times from months to weeks.
Learn more about Viking Masek's in-stock machine program >>
5. Private label and store brands dominate
According to Nielsen's Total Consumer Report, sales of private label products surpassed $143 billion in sales over the past year. Why? Today's consumers are willing to splurge on store brands more than they would for name brands. Food Navigator agrees: "40% of consumers in 2019 (vs. 34% in 2014) are willing to pay the same if not more for [a store brand] than the name brand equivalent."
Store brands are now seeing increased premiumization, leaving their generic stigma behind. No longer considered cheap or inferior, private label products now embrace current trends and are focused on quality, both in product and packaging.
Keep up with the latest packaging industry trends
Get the hottest packaging industry trends and tips delivered right to your inbox, only at the frequency you choose. Subscribe to our blog today:
---