Powers, Inc. finds flexibility and speed in new snack packaging machine

April 29, 2019
When a company decides to switch to a different packaging equipment manufacturer, the stakes are high.
If the project goes south, if the machine doesn't perform, if the system is difficult to operate, that's literally money down the drain.
And when you have very specific and variable packaging needs, the stakes are even higher. You must be confident that the packaging equipment manufacturer you choose will be a partner in your long-term success.
Powers, Inc. of Spokane, WA was in this exact situation in early 2017. Aging packaging equipment needed replacing and they decided to shop around for the best solution to fit their unique needs. One of the equipment providers they contacted was Viking Masek.
get the inside story. download the full powers inc case study now. >>
Business Background
Founded in 1948, Powers, Inc. of the Pacific Northwest is a roaster and blender of dried fruits and nuts, and also produces gummy candy products. Additionally, Powers offers contract packaging services.
Critical Issues
Powers' top concern when it comes to packaging automation is accommodating its wide product assortment. Faced with aging packaging machines that needed to be replaced, they required a new flexible packaging solution that would accommodate 8 different bag sizes, which meant the system must be configured for frequent changeovers and short production runs.
They were hesitant to switch packaging machine manufacturers at first. After all, choosing the wrong equipment supplier could spell disaster for their reputation...and pocketbook.
"Although we were a bit hesitant to switch packaging machine manufacturers (going from the known to the unknown is a bit scary), we're just delighted we have. The support from Viking Masek has been just outstanding." - John G. Cooley, President, Powers, Inc.
Strategy & Solution
Powers turned to Viking Masek for a unique vertical form fill seal (VFFS) packaging machine that was specifically configured both for speed and frequent changeovers to match their varying needs. The system included an automated packaging machine integrated with a multi-head scale and three printers, with the option to...
Read the full story
Want the whole story? Download our new Power's Inc. case study to read about their entire experience, from initial specifications to equipment installation and performance: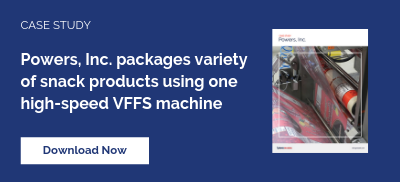 ---