Top 3 questions about premade pouch machines

July 25, 2017
If you're considering switching from hand filling to using a premade pouch machine, or updating your current premade pouch packaging equipment, you're probably asking yourself these three very important questions.
1. We are hand filling now. How much faster will the machine be?
Like anything else, that depends on the bag and the contents. Many experienced packaging associates can bag anywhere from 5 – 15 bags per minute. A single-lane premade pouch machine can fill and seal 35 – 60 bags per minute. This variation in output is because the machine doesn't dictate the machine speed, the contents do. For example, the bagging speed for hard candy is different than that of fine or dusty material. We can help you compare your current bagging rate with the anticipated rate you should be able to achieve with one of our machines if we know what type of bag you are using and what is going in the bag.
2. We do a lot of short runs and change bag sizes often. How long does it take to adjust the machine for a new bag?
Generally, 5 minutes or less. We've had customers time it with a stopwatch. Viking Masek's premade pouch machines are very versatile. The first thing that the machine operator will change is the setting in the Human Machine Interface (HMI), the computer that runs the machine, to adjust the grip size on the bags. Next, the knobs on the guides that feed the bags into the machine are adjusted and new bags are loaded into the machine. Depending on the size difference between the first bag and the second bag, a third adjustment might be made to accommodate the length of the new bag. All these adjustments are tool-free. In fact, we have many customers who have found that changing over the machine is so quick and easy, it's worth automating even very short runs of 20 – 100 bags because the machine is faster than bagging by hand, even when changeover time is added in.
3. Do we need to run bags through the machine during setup?
This is one of the biggest advantages of using premade pouches. When setting up a vertical form fill seal machine, roll stock must be run through the machine. This stock will not be reusable. When setting up a premade pouch machine, you will need to run bags through the machine during setup, but it is possible to do so without waste. In most cases, it is possible to run bags through the machine without sealing them. These bags can be placed back in the magazine and cycled through a second time.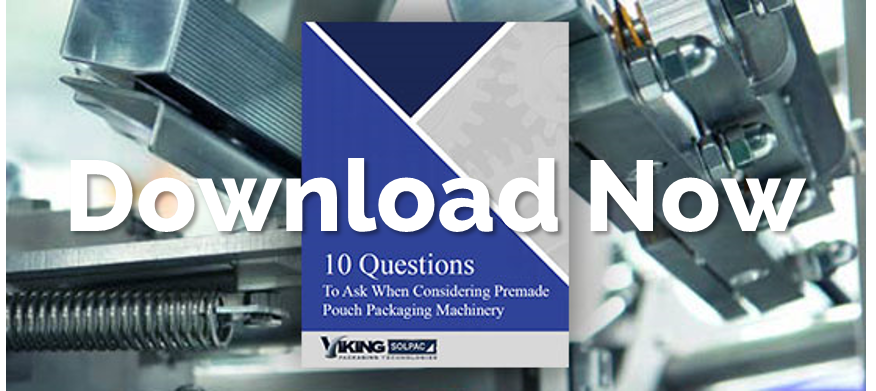 Premade Pouch Machine Guide
Get expert answers to ten top questions about premade pouch packaging technologies. Download our eBook: Top 10 Questions to Ask When Considering Premade Pouch Machinery.
---