5 Things Your OEM Will Expect from You After Purchasing a Packaging Machine

June 28, 2017
The start of a packaging machine project is a very exciting time for our customers. They look ahead to the results: Increased throughput, better package seals, and the ability to scale production on demand (to name a few). But the start of a project can also prove to be demanding for our clients as there are many things that need to be determined prior to even starting the manufacture of your machine. Today we're giving you an inside view into what your packaging machine Project Manager will expect from you after purchasing, and tips for ensuring a smooth and successful project.
Before we get into the details, remember that we rarely find two machines alike as each customer has unique requirements that set them apart. As such, the deliverables required for your packaging machine project can be vastly different from another company, even a business in the same industry as yours. But overall, here's what happens in the first few weeks to a month after purchasing an automated packaging system:
1. Invoice and payment of initial deposit
After sending the purchase order and signed quotation to your sales representative, our accounting department will get to work on sending the invoice for the project's initial deposit. This is a critical step; the manufacturing process of the packaging machine is triggered by payment of this deposit.
Deposit and payment terms will be spelled out on the packaging equipment proposal in detail.
2. Project kick-off call
At Viking, we prefer to officially kick off the packaging machine project with a conference call that includes key players from both the customer and Viking Masek for introductions in addition to setting the tone for the project.
3. Assignment of main points of contact
After the initial call takes place, the Viking project management team will be the single point of contact for the duration of the project and likewise, we will work with the client to choose a single customer contact. Just as the sales person tends to take a backseat position over the course of the project, we often find that the purchaser also places project responsibility into another's hands.
Limiting communication to select key individuals ensures a smooth, efficient process and expedited, clear communication.
4. Request for customer deliverables
Within the first week after the project has been imitated, we often derive a list of 4-5 critical pieces of information required from the customer to maintain project momentum. These deliverables can include:
Down payment status
Any additional third-party involved with project
Custom machine specs; jaw faces, infeed, discharge, etc.
Upstream / Downstream equipment integration
Bag sizes; total capacity now and future
Design questions from engineering
Ceiling heights
Package Qualifying tests
Description of Product or Specifications
Fill Weights
Schedule - Delivery of equipment vs production startup
FAT details, if any
5. Establishment of delivery schedule
Next, your project manager will provide an expected schedule for delivery of your packaging machine. Timely response from the customer proves to be one of the most influential aspects of the equipment delivery schedule. We are not able to enter the machine into the system until all the pieces of the puzzle are known; even a slight delay of two days could adversely affect the schedule by weeks if we lose the spot in the queue. These types of situations happen often and we take every measure possible to inform the customer of what any delay could cause.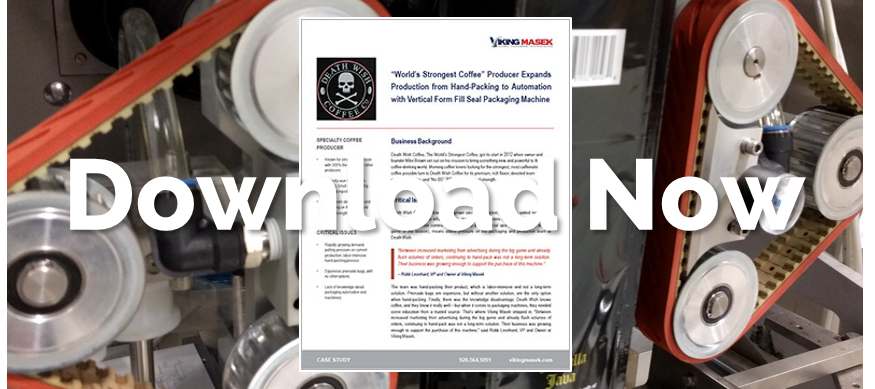 Death Wish Coffee Case Study
Want to read the story of a real-life packaging equipment project, from start to finish? Download the case study of Viking client Death Wish Coffee to learn about their experience.
---